Wooden Toothpick Machine---Machine List
Share
publisher

Angel Zhou
Issue Time

2013-02-28
Wooden Toothpick Making Machine----Machine List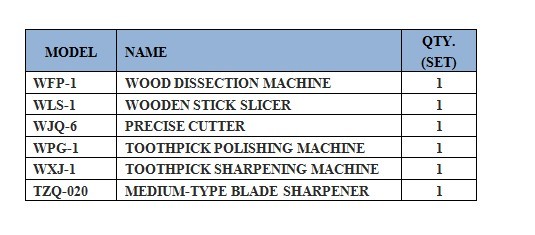 Remarks:
For Sharpening Double-pointed toothpick,WXJ-1 Machine speed is about 2,000 PCS/MIN.
For Sharpening Single-pointed toothpick,WXJ-1 Machine Speed is about 1,000~1,500 PCS/MIN.
Pls kindly let us know the followinginformation,thank you.
1. Wooden Toothpick Diameter/Length
2. Capacity you need.
3. The Shape of Toothpick you wish to make. (Single-pointed orDouble-pointed)?
4. Your Local Working Voltage. (Here in China, it is 380V, 50HZ (threephase)
If you wish to know more about our machines, welcome to send email to us.
Email: angelzhou1224@gmail.com (Angel Zhou)