Bamboo Machine List for Producing 1000 KGS stick
Share
Issue Time

2013-05-23
If you wish to produce 1000 KGS Fresh Bamboo Sticks
---Written by Angel Zhou (BESTA BAMBOO MACHINE CO., LIMITED.)
angelzhou1224@gmail.com Skype: angel12242008
Dear Sirs,
Thank you for visiting our company website. Currently, there is a huge demand in bamboo stick for incense stick makng purpose.
Some customer wish to produce the capacity, that is 1000 KGS per day.
I kindly made a summery as follows for your kind check.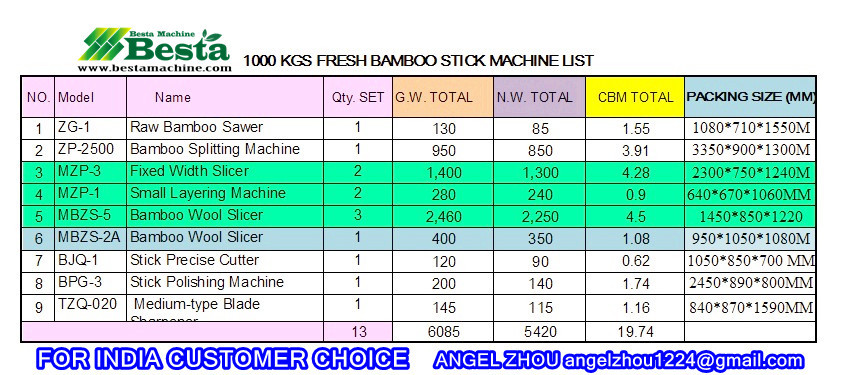 For China Bamboo, the machine capacity is high. EX. FOR 1 SET OF MBZS-5, IT CAN PRODUCE ABOUT 500 KGS BAMBOO
STICK PER 8 HOURS BY EFFICIENT WORKERS.
For some countries, due to the bamboo species is different, we increase the quantity of some machines.
It is just for your reference and conservative speaking.
If you wish to use our machine and buy our machine, do not hesitate to email us.
We will give you the best suggestion.
Welcome to send email to us and also bamboo strip samples.
Best Regards!
Yours sincerely,
Angel