BAMBOO TOOTHPICK MAKING MACHINE, BAMBOO TOOTHPICK PRODUCTION LINE
Share
From

ANGEL ZHOU
Issue Time

2018-07-14
Summary
Fully automatic bamboo toothpick making machine, bamboo toothpick production line

The Whole Production Line About Bamboo Toothpick Machine
It is consisted by the following machine,
(1) ZG-1 Raw Bamboo Sawing Machine ( 1 SET)
(2) ZP-2500 Bamboo Splitting Machine ( 1 SET)
(3) MZP-3 Fixed Width Slicer (2 SETS)
(4) MZP-1 Small Layering Machine (2 SETS)
(5) MBZS-5 Bamboo Wool Slicer (bamboo stick making) (3~4 SETS)
(6) BJQ-6 Precise Cutting Machine (2 SETS)
(7) BPG-1G Toothpick Polishing Machine (High Speed) (2 SETS)
(8) BXJ-1 Toothpick Sharpening Machine (2.0mm*65mm toothpick) (3~4 SETS)
(9) TZQ-020 Medium-type Blade Sharpening Machine ( 1 SET)
Optional Machine:
(10) Hot Air Stove -It is for supply the heat for drying bamboo sticks.
(11) Stainless Steel Tank --It is for chemical treatment of bamboo sticks.
(12) Toothpick Packing Machine --It is for packing toothpicks.
There are two types of bamboo toothpick, one is single pointed toothpick, another type is double pointed toothpick.
If you want to make both, you need to buy 2 set of toothpick sharpening machine.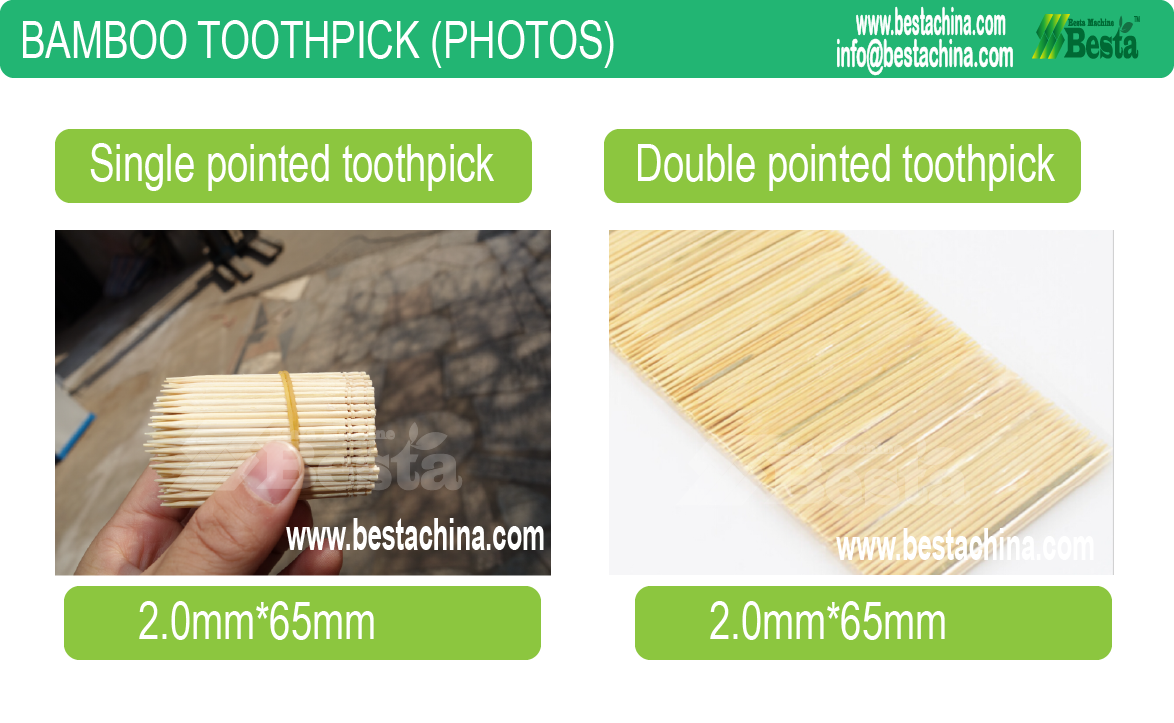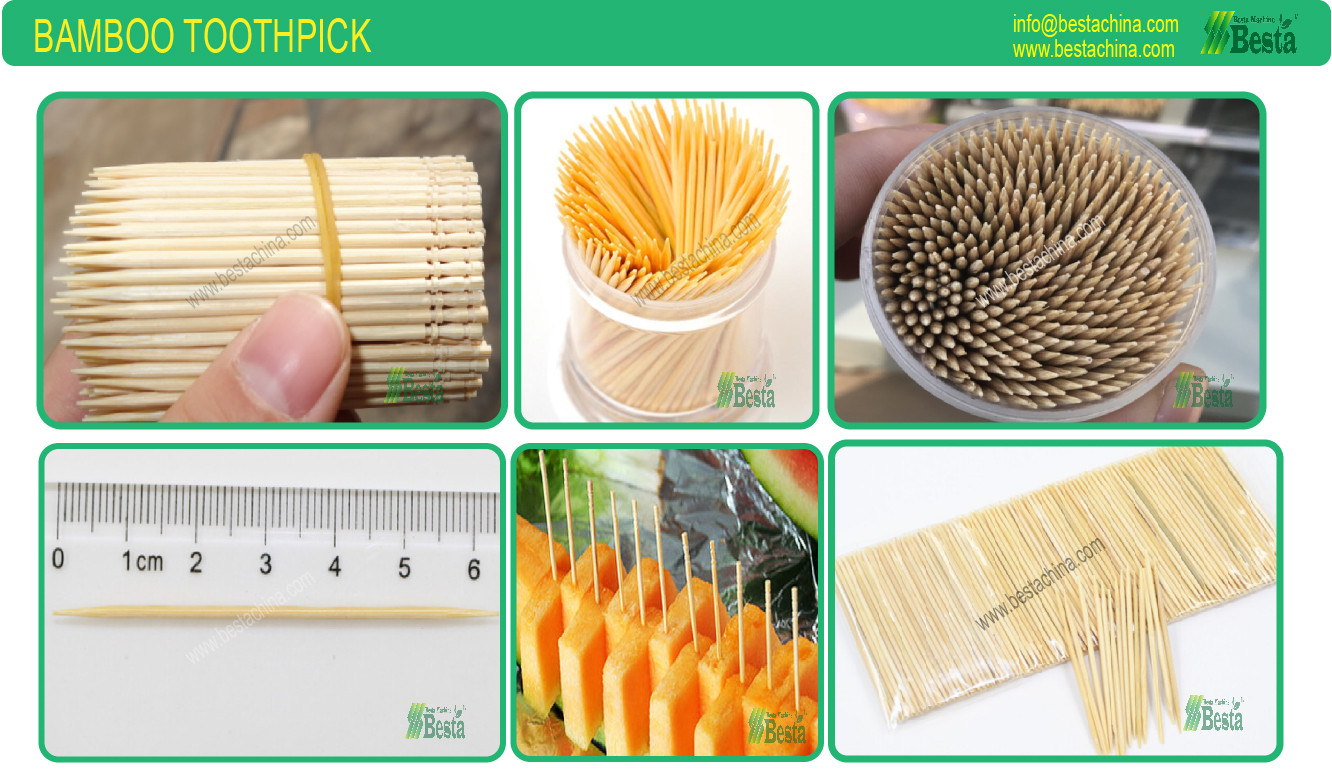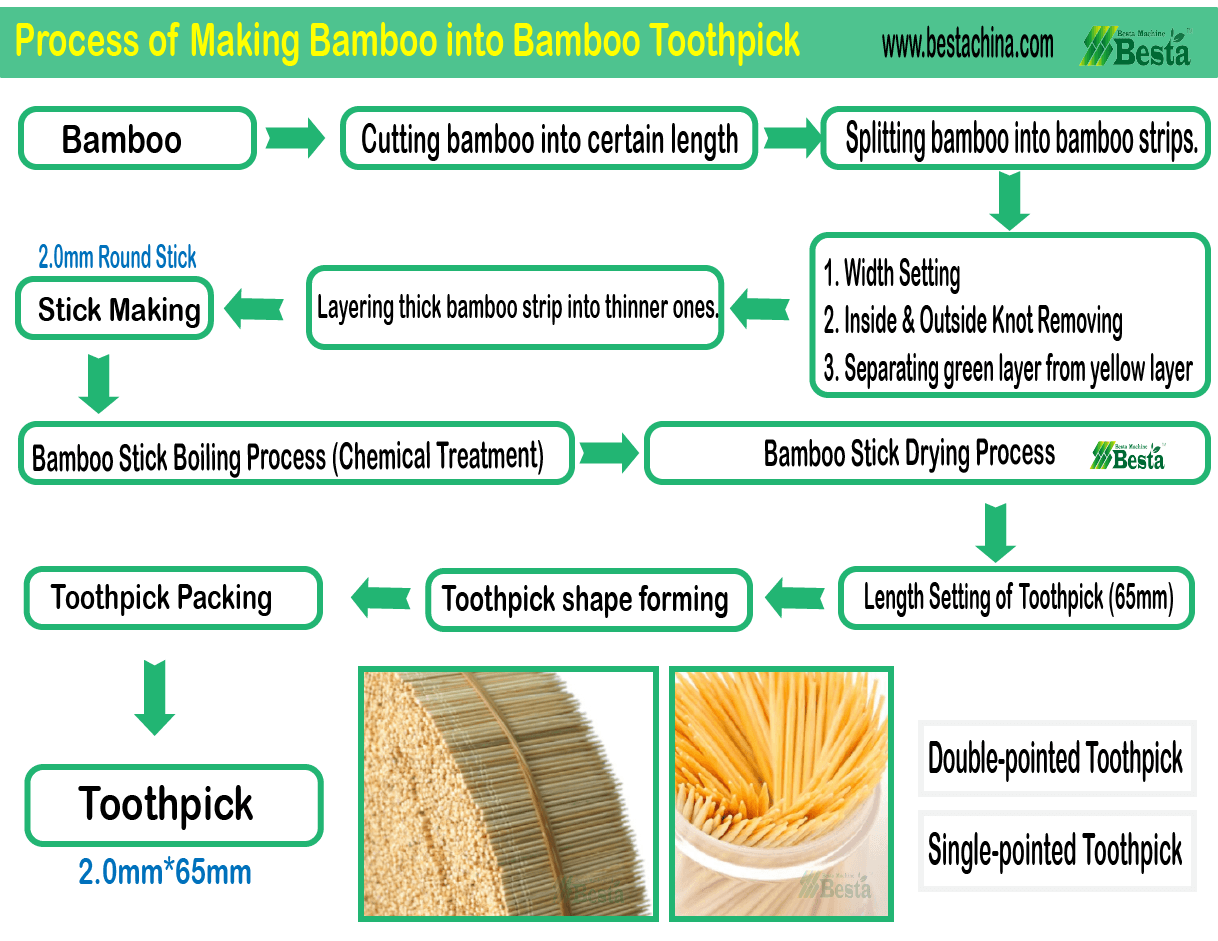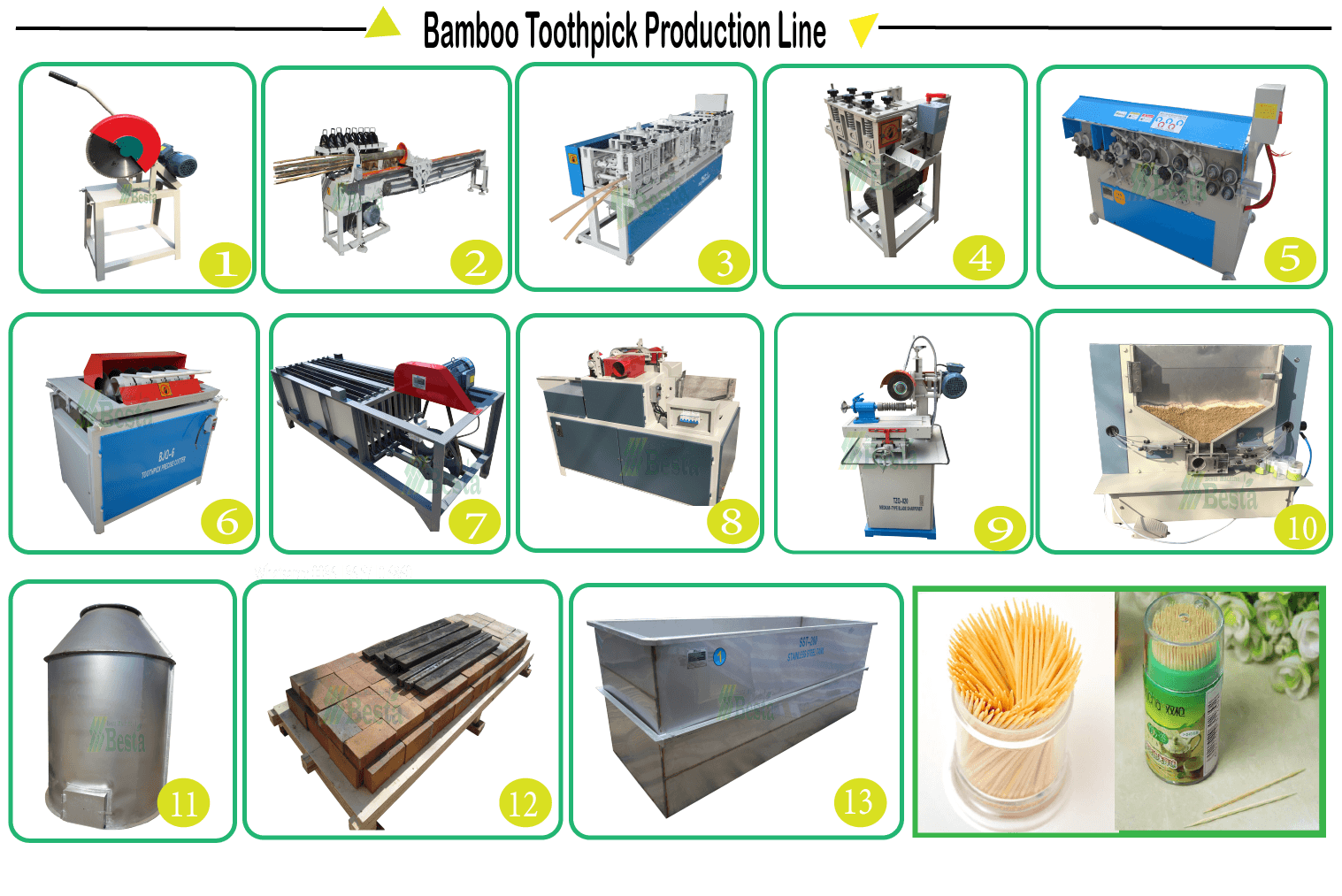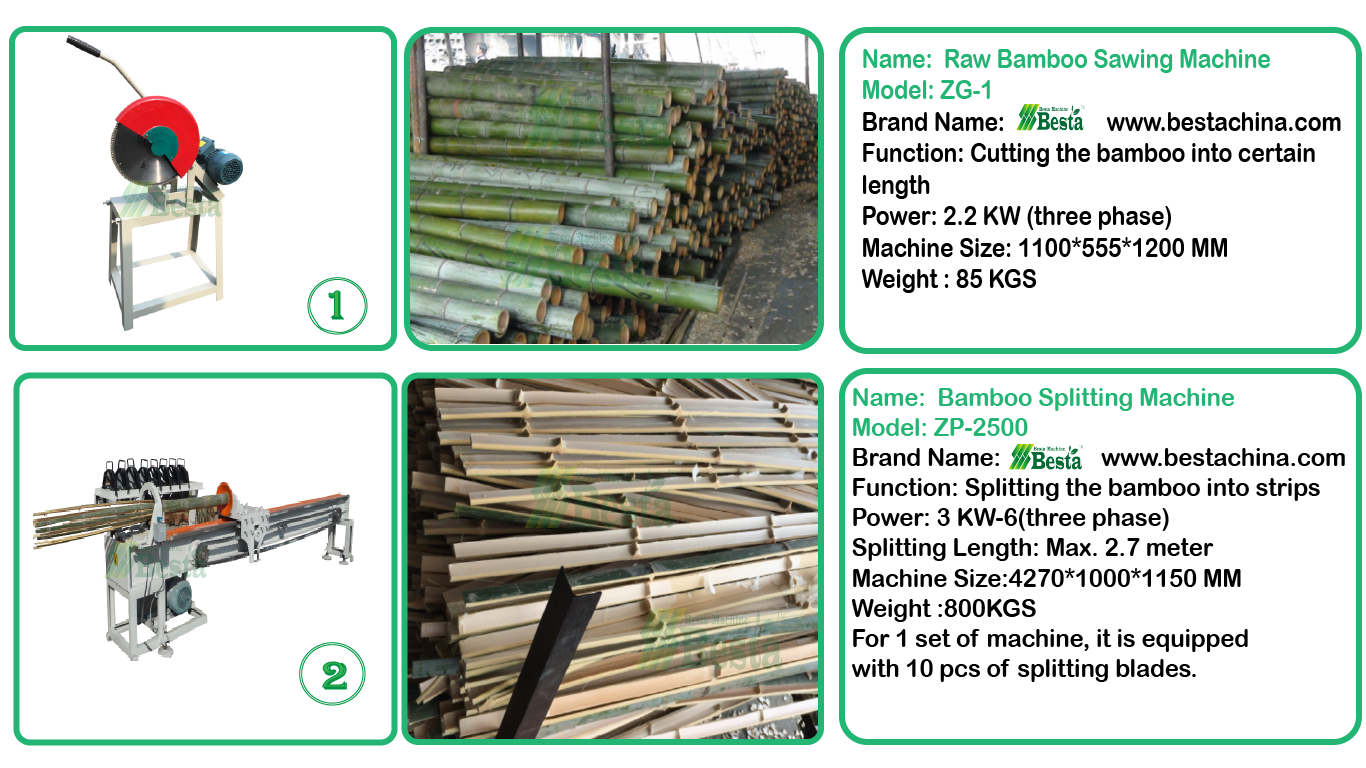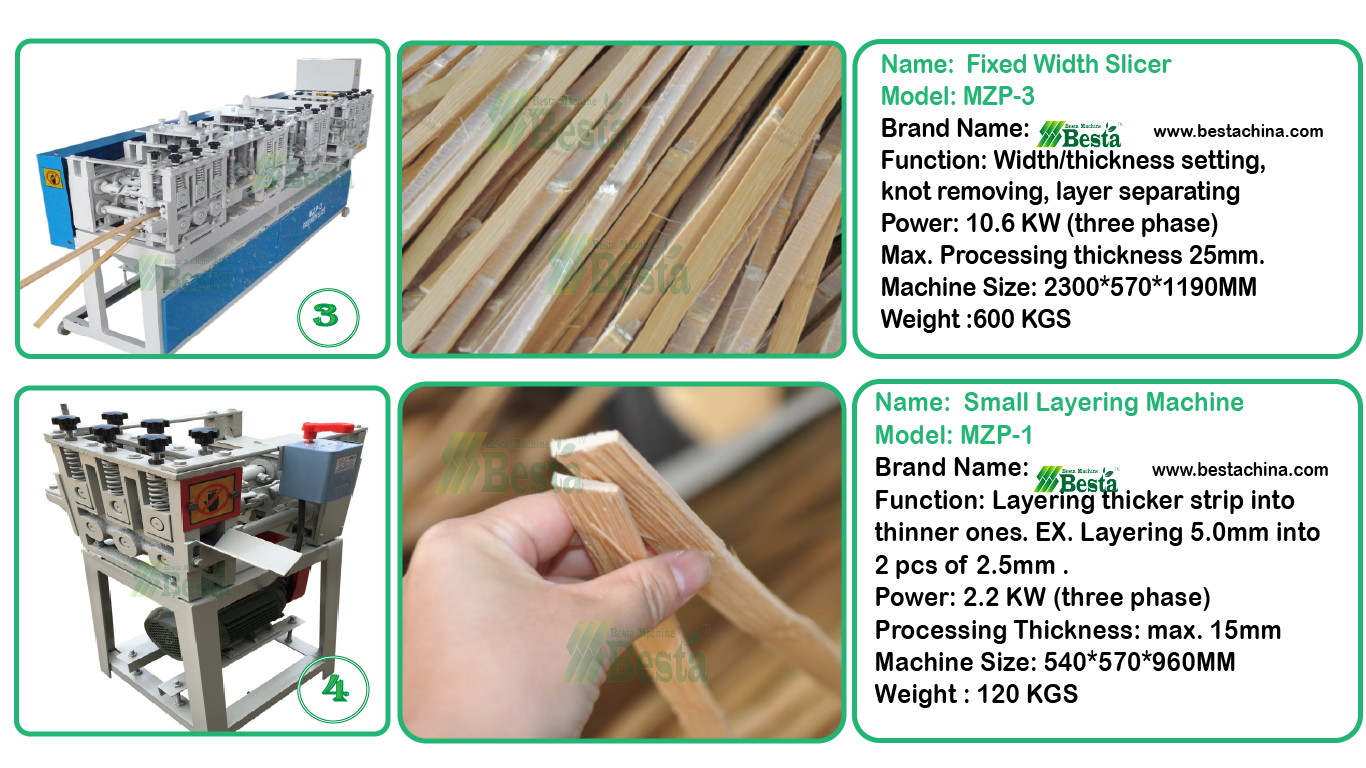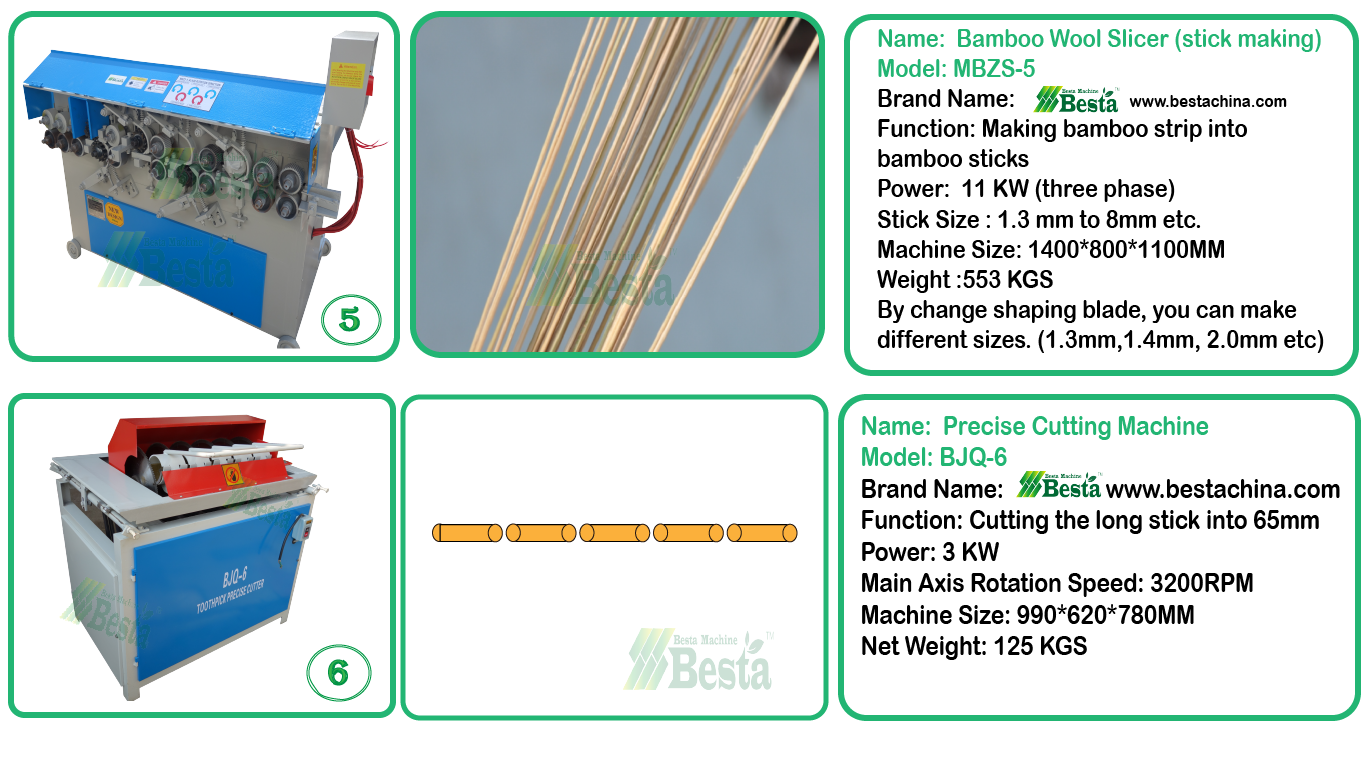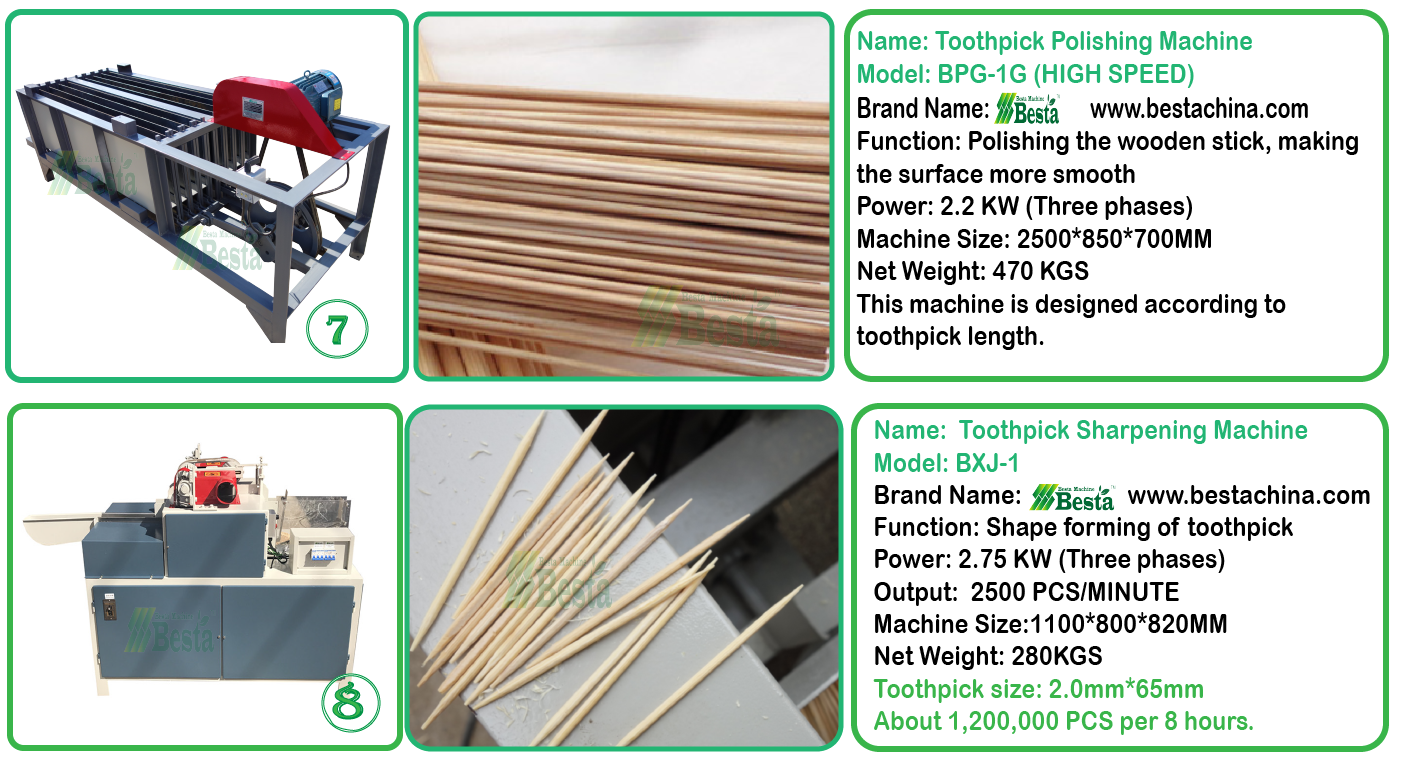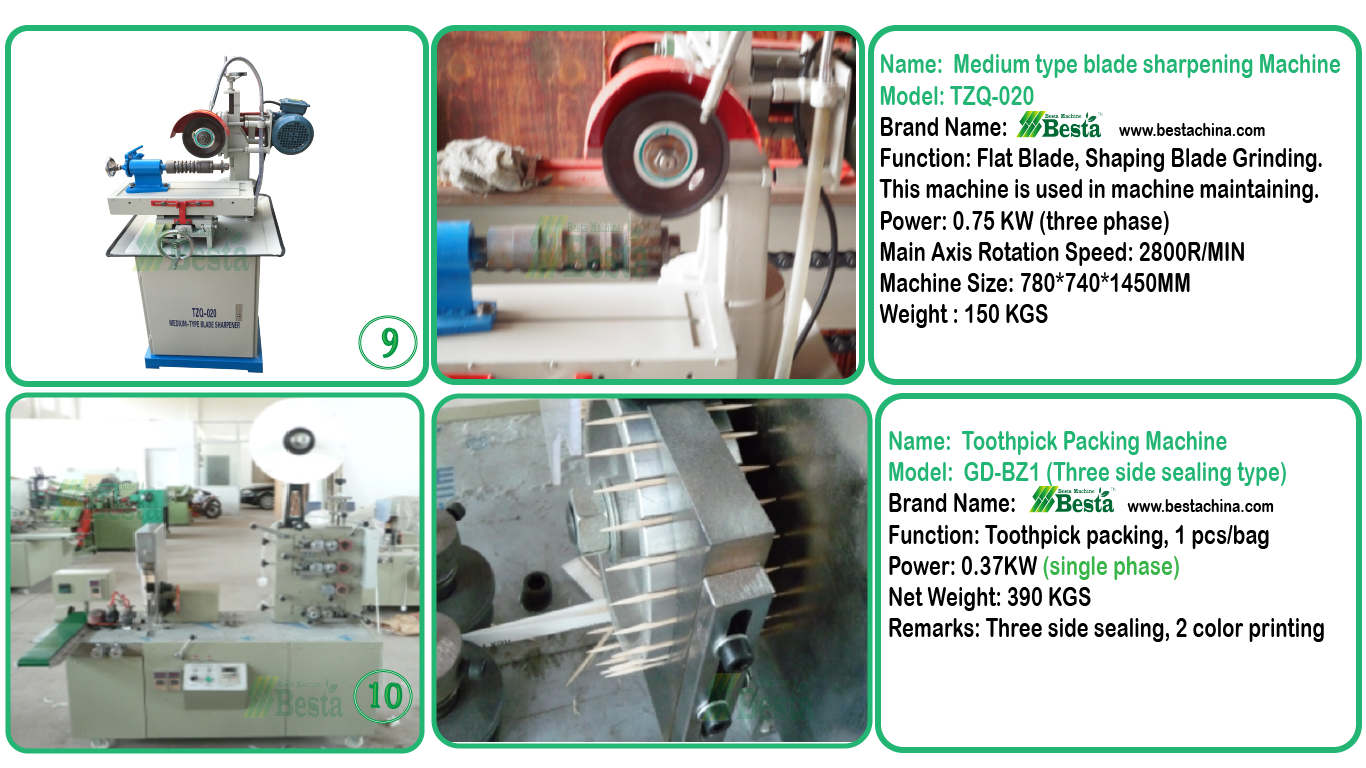 1. If you order each machine one set, the capacity for double pointed toothpick is about
1,200,000 PCS per 8 hours.
2. Working voltage: Except the toothpick packing machine, Other machine is working under
three phase. In China, it is 380V, 50HZ (Three phase). If your working voltage is different, pls
kindly inicate.
3. There are two types of bamboo toothpick, one is single pointed and another is double pointed, which
type you want to make?

BESTA BAMBOO MACHINE CO., LIMITED.
EMAIL: info@bestachina.com
angelzhou1224@foxmail.com
angelzhou1224@gmail.com
MOB: +86 186 5710 6860 (Whatsapp/Wechat)
Contact Person: Angel Zhou
Welcome to email us.
BESTA MACHINE--is our company's brand, we have been insisting on providing customers with high quality products
as well as good service for more than 20 years. We are experts in bamboo processing machinery.

Our bamboo machinery mainly has the following series. Bamboo toothpick equipment, bamboo chopsticks equipment
(bamboo round chopsticks and bamboo twin chopsticks), bamboo barbecue (BBQ Stick) Making equipment, bamboo
stick processing equipment, bamboo furniture board machines, bamboo flooring equipment, bamboo fine powder
processing equipment (ex. 80 meshes to 400 meshes) and bamboo charcoal equipment.
​

We will provide the machine photos, accessories and packaging pictures for our customers, etc. to the customer before
shipment. Our machinery (Besta machine) is mainly exported to India, Indonesia, Thailand, Myanmar, Nigeria, Tanzania,
Cameroon, Brazil, Mexico and Colombia. Our company's bamboo machinery has always insisted on innovation and
continuous research and development of new machines, as well as better performance equipment.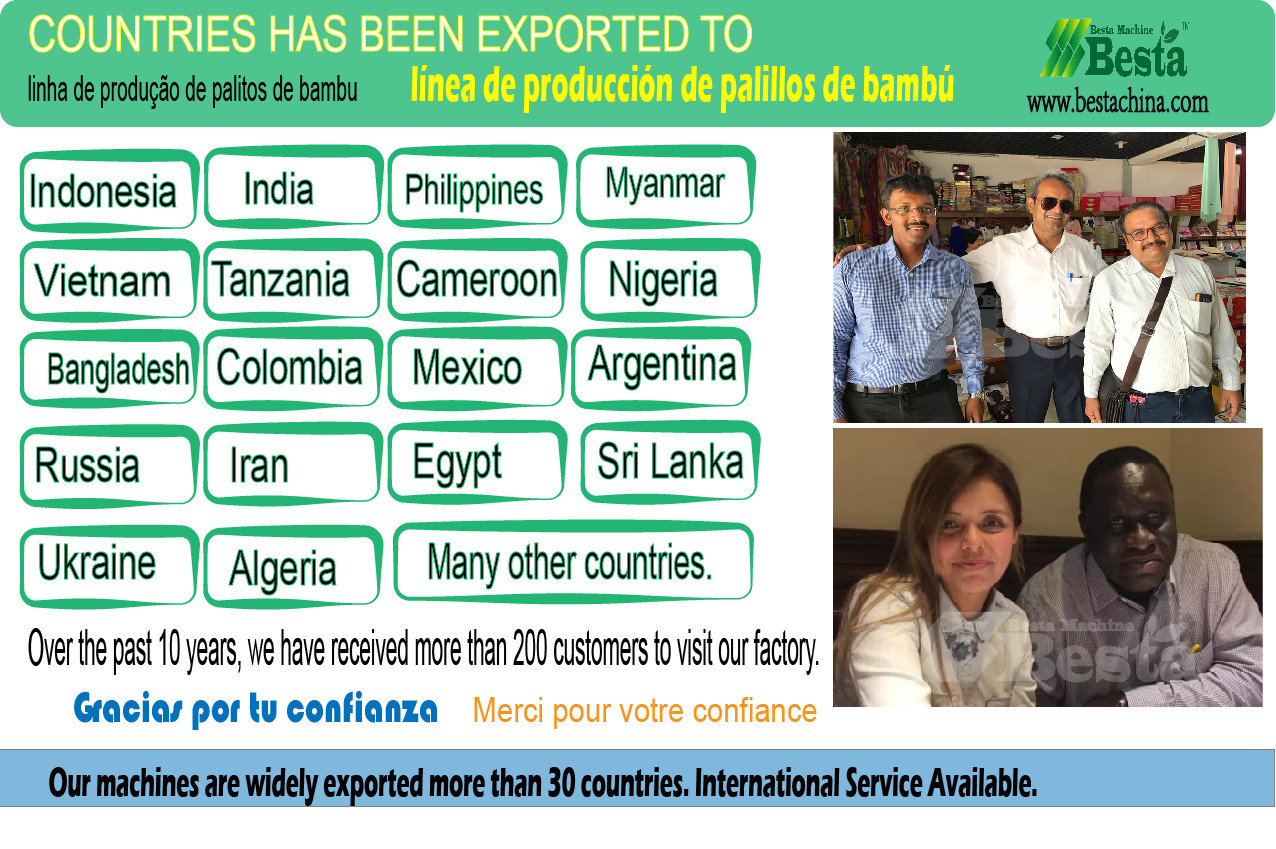 Our after-sales service has always been in place and we are able to provide quality after-sales service.
We used to send our machine engineers to many countries ex. Nigeria, India, Indonesia, Thailand, Myanmar, Cameroon,
and many other countries in helping customers build their own factories and give them professional technical guidance,
we can consider more for you. We will continue to serve our customers by provide good technical services.
Regarding export services, we have a professional team to provide you with intimate and quality services.
We will produce according to the requirements of the customer country.
If you need high quality machines and good service, please contact us. Choose us and choose success.