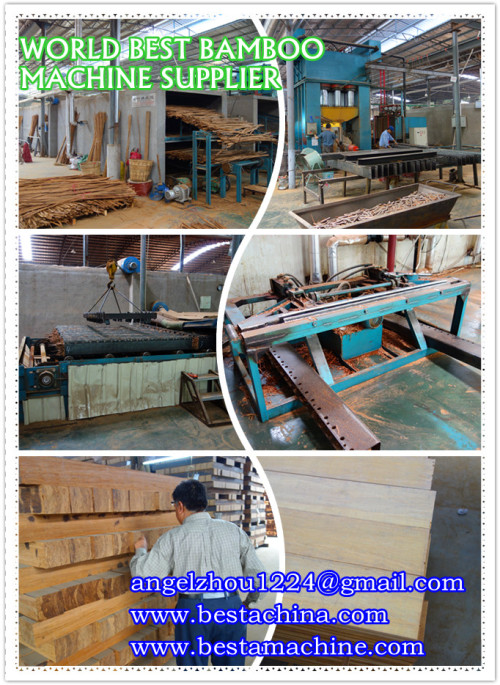 Strand Woven Beam Hydraulic Oil Press
Description
HOW TO FIND A GOOD MACHINE SUPPLIER FOR YOUR BAMBOOFLOORING PROJECT?
'HOW CAN I SET UP STRAND WOVEN FLOORING/BAMBOOFURNITURE BOARD MAKING??
YES, YOU FIND US. WE ARE THE WORLD BESTA BAMBOO MACHINE SUPPLIER !
If you wish to start bamboo project, we highly recommend the world latest technology,
STRAND WOVEN FLOORING MAKING MACHINE. Now days, the world tree resources are degrading very fast by cutting and more and more people turn the eye to the promising future of its substitutes—bamboo.
Bamboo, as recycled materials, it can grow maturewithin 5-6 years.
After using our machine and technology, the bamboo canbe processed into high density strand woven beam with beautiful grains. Now,more and more people like bamboo flooring, bamboo furniture board due to its obvious advantages like good density, easy installation, affordable price
and environmental-friendliness.
Our company can offer you the following service,
We can provide you a very detailed and excellent project proposal includes machinelist, machine cost, cost calculation of strand woven beam making, technology,installations and other things you are deeply concern. For the company who set up the factory at the first time, we have rich experiences.
For strand woven flooring projects, we have helped more than 40 big strand woven flooring making factories set up in China and also abroad. Some of the factories rank the top 10 famous brand factory in China.
Our project proposal will help you know well about the strand woven beam making.
To have a deep acknowledgement, we sincerely invite you to visit us.
How to Contact Us?
BESTA BAMBOO MACHINE CO., LIMITED.
MOB:0086186 5710 6860 (Angel Zhou)
EMAIL: angelzhou1224@gmail.comangelzhou1224@hotmail.com
Skype:angel12242008
www.bestachina.com www.bestamachine.com
ADD: TANGPU INDUSTRIAL PARK, ANJI COUNTY, ZHEJIANG PROVINCE
The nearest airport to us is Hangzhou Airport.