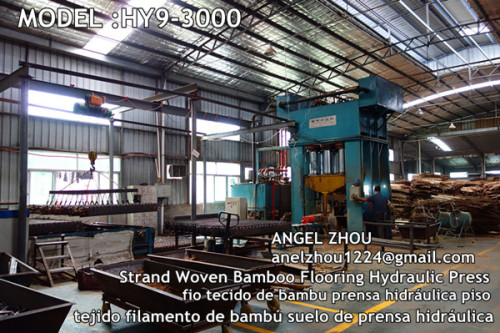 Strand Woven Beam Hydraulic Oil Press
Description
Technical Data of Hydraulic Oil Press
Application:
strand woven beam making, strand woven bamboo furniture board making, strand woven flooring making.
After using YD9-3000, the bamboo strip (with glue and dried)will be pressed into one strand woven beam block ex. 1920*140*143MM. with high density.
1 Type: YD9-3000
2 Electricity Power Input: 380V/220 V
3 Electricity Power frequency: 50Hz
4 Size dimensions: 2550mm*2600mm*5500mm
5 Work table size: 1500mm*2600mm
6 Weight: 65 Tons
7 Type of press: Oil hydraulic press
8 Type of oil cylinder: The piston cylinder
9 Diameter of main oil pipe: 76mm*8mm
10 Diameter of Cylinder: 380mm
11 Total Powers:85 KW
12 Motor: Two 30 KW Electric Motor and one 7.5KW Motor
13 Main Oil Pump: Two 160L Plunger Pumps
14 Maximum pressure of the system: 31.5MPa
15 Maximum pressure: 3000 ton
16 Cylinder stroke: 800 mm
17 Electrical control system: Mitsubishi PLC control system PLC
18 Output:620 blocks per 18 hours(About 22 CBM)
Remarks:The strand woven beam mould size we have the suggestion as follows,
Our press has good quality and is very stable; It can work for 18 hoursper one day without repairing for more than one year. The key parts of the press are the oil cylinders. Our press use very high quality cylinders.
It will not leak oil and can keep pressure for long time.
For block size, we suggest:
1920*140*143MM (YD9-3000 press)
2270*140*143MM
2400*140*143MM

Do not hesitate to email us about your thinking and requirements.
We will give you the project proposal with detailed machine list, cost, and factory layout,cost calculation of making strand woven beams, machine shipment, installationand technology support and other things you may concern.
ANGEL ZHOU (MOB:0086 186 5710 6860)
EMAIL: info@bestachina.com
Skype: angel12242008
www.bestachina.com(pls click products and news)