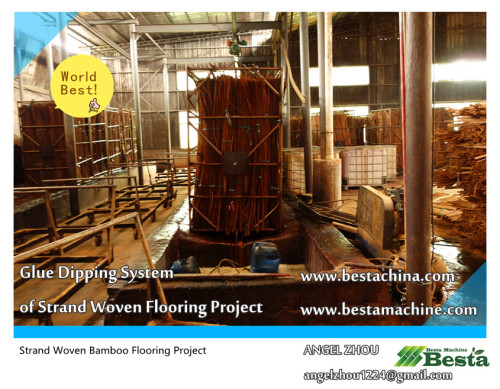 Glue Dipping Machine,strand woven flooring machine
Description
Glue Dipping Machine (System)
Technical Data
Name: Glue Dipping Machine (Glue Dipping System)
Dimension: 1.5M*12 Meter
Frame: Steel
Number of Carriage: 8
Hoist: 2 Tons
Application: Strand Woven Bamboo Flooring Making, Strand Woven Bamboo Furniture Board Making.
Our company has rich experience in strand woven bamboo flooring machines and most of the top 10 flooring manufacturers are using our equipment. We have matured machines, mature technology and a professional team for the after selling service of installations. We are the world No.1 bamboo processing machine suppliers and aims to provide the customer which to explore the bamboo resources with strong support. High Quality Is our first priority and our company has mature technology in machine and also in produce making. We can give you strong support.
For more detailed project proposal, budget, and other things you may concern, do not hesitate to email us. Welcome to visit our machine factory and the projects set up by our company.
You can contact us in the following ways,
Angel Zhou Mobile: 0086 186 5710 6860 (whatsapp)
BESTA BAMBOO MACHINE CO., LIMITED.
Email: info@bestachina.com
MSN: angelzhou1224@hotmail.com
Skype: angel12242008