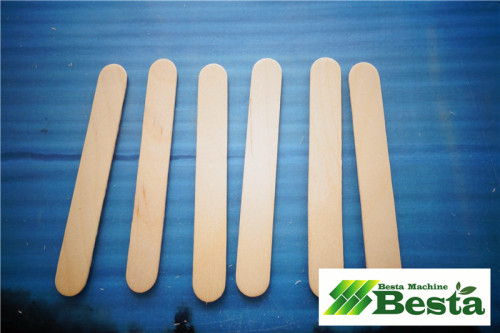 Ice Cream Stick Production Line
Description
The best ice-cream stick, ice spoon, tongue depressor stick production line
Manufacturer Name: Besta Bamboo Machine Co., Limited.
Machine List
1. L520 Wood Rotary Cutting Machine
2. CCM-003C Carved Cutting Machine
3. PG-6-L Polishing Machine
4. BSM-010 Blade Sharpening Machine (Electromagnetic)
5. Auxiliary Equipment
(1) 3 Ton Steam Generator
(2) Heat Exchanger
(3) Draught Fan
6. Selecting Machine (For quality control)
7. Chamfering Machine (angle-chamfering)
8. Branding Machine
9. Packing Machine (1 pc/bag)
For detailed each machine introduction, welcome to email us.
The advantage of our company
1. For quality of the machine, we are the best in the world. Our machine is the current advance model in the world. Choosing us means choose a reliable supplier.
2. We also have ice-cream stick making factories for more than 15 years and we know well about the crafts. Our products are widely exported to Japan, Australia and other countries. As you know, for Japan market, it put high standard on product quality. But our quality control and crafts are very mature. We are both professional in machine and also the crafts of making products.
3. We will offer you the layout, the best machine suggestion, machine service for you.
BESTA BAMBOO MACHINE CO., LIMITED.
ANGEL ZHOU
MOBILE: 0086 186 5710 6860
EMAIL: info@bestachina.com angelzhou1224@gmail.com
Skype: angel12242008
https://www.youtube.com/watch?v=Ewu1LddQplY

Dear Sirs,
Have a nice day!
Thank you for visiting our company website.
Our company is the world famous ice cream stick making machine/ice spoon making
machine/tongue depressor stick making machine suppliers.
We are also famous product supplier for making ice cream stick/ice spoon/tongue depressor sticks.
Our products are widely exported to many countries like Japan, Australia, USA. Etc.
Our machines are widely exported to Iran, Vietnam, Indonesia, Turkey and other countries.
We have matured technology & Team for providing the best machines and best service.
Do not hesitate to email us for detailed project proposal. We will send you all information regarding the ice-cream stick, ice spoon, tongue depressor stick making machines.
All the things related to this product line, we can provide for you. In China, we are the best!
Yours sincerely,
Angel Zhou
kem máy làm thanh máy làm nước đá muỗng lưỡi depressor thanh làm cho máy (Nhà cung cấp máy chất lượng cao hàng đầu Trung Quốc của) Chào mừng bạn đến email cho chúng tôi. Cảm ơn bạn.