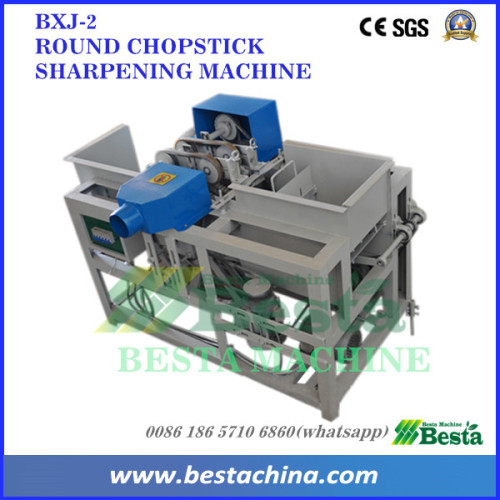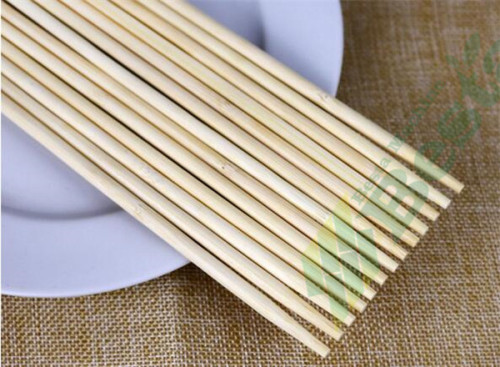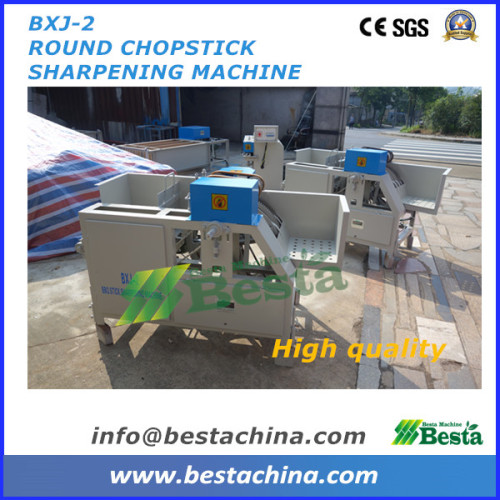 Round Bamboo Chopstick Making Machine, Chopstick Machine
Description
BXJ-2 Chopstick Sharpening Machine (shape forming of round chopstick)
Function:
Shaping the round stick into finished product--Round chopstick
Shaping the round stick into finished product--Round chopstick

Video Link: (Whole Production Line)
Pls kindly check the following link, thank you.
https://www.youtube.com/watch?v=JcUa0_JKBOI

| | |
| --- | --- |
| Model | BXJ-2 |
| Name | Round Chopstick Sharpening Machine |
| Power | 2.2 KW |
| Main Axis Speed | 5000 R/MIN |
| Mechanical Size | 1480*760*890MM |
| Weight | 250 KGS |
| Packing Size | 1570*850*1040MM |

Function
Making the Round Stick Into Finished Round Chopstick.

SHARPENING SPEED: 200 PAIRS/MIN
Remarks
You need to polish the bamboo stick before sharpening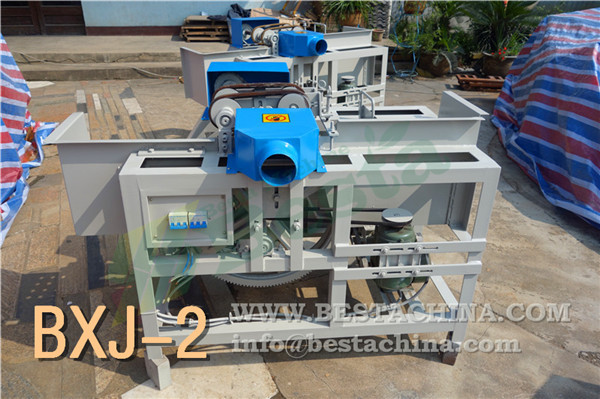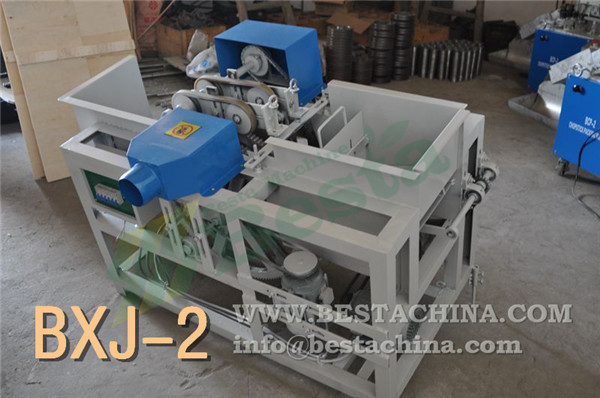 BAMBOO CHOPSTICK MAKING MACHINE (PRODUCTION LINE) MAIN LIST
1. RAW BAMBOO SAWING MACHINE (cutting bamboo into certain length) ZG-1
2. BAMBOO SPLITTING MACHINE (splitting bamboo into strips) ZP-2500
3. FIXED WIDTH SLICER (width/thickness setting,separate green layer from yellow layer strip) MZP-3
4. SMALL LAYERING MACHINE (Layering thick bamboo strip into 2 pcs) MZP-1
5. BAMBOO STICK MAKING MACHINE (BAMBOO WOOL SLICER) MBZS-5
6. PREICSE CUTTING MACHINE(length setting) BJQ-1
7. BAMBOO STICK POLISHING MACHINE (making surface smooth) BPG-2
8. BAMBOO CHOPSTICK SHARPENING MACHINE (Shape forming of ROUND CHOPSTICK) BXJ-2
9. MEDIUM TYPE BLADE SHARPENING MACHINE (blade maintaining) TZQ-020
10.CHOPSTICK PACKING MACHINE (BCP-2) HOT SEALING

For each machine detailed catalog and pricelist,welcome to send email to us.
ROUND CHOSPTICK REGULAR DIAMETER: 4.5MM, 5.0MM, 5.5MM,6MM ETC
ROUND CHOPSTICK REGULAR LENGTH: 20CM, 21CM, 23 CM ETC.

EMAIL: info@bestachina.com , angelzhou1224@gmail.com
BESTA BAMBOO MACHINE CO., LIMITED.
Contact Person: Angel zhou
MOB: 0086 186 5710 6860 (whatsapp)
Skype: angel12242008.
Factory Add: Tangpu industry Park, Anji County, Zhejiang Province.

Our Round Chopstick Making Machine Testing Videos


Video (1) Subject: Our Bamboo Chopstick Machine Testing Video
Link: https://youtu.be/JcUa0_JKBOI
<iframe width="560" height="315" loading="lazy" src="https://www.youtube.com/embed/JcUa0_JKBOI" frameborder="0" allowfull
screen></iframe>


Video (2) Link Bamboo Chopstick Polishing and Sharpening Machine
(in real production )
Welcome to visit https://youtu.be/exaea3JKQLc

<iframe width="560" height="315" loading="lazy" src="https://www.youtube.com/embed/exaea3JKQLc" frameborder="0" allowfullscreen></iframe>


Video (3) Twin Chopstick Selecting Machine (CSM-200)
https://youtu.be/Fs3oAwLY9d8

<iframe width="560" height="315" loading="lazy" src="https://www.youtube.com/embed/Fs3oAwLY9d8" frameborder="0" allowfullscreen></iframe>


Video (4) Round Chopstick Quality Control Machine Video
https://youtu.be/jPjv5F95ySc

<iframe width="560" height="315" loading="lazy" src="https://www.youtube.com/embed/jPjv5F95ySc" frameborder="0" allowfullscreen></iframe>



Video (5) Round Square Shape Chopstick Shape Forming Machine Video
https://youtu.be/A7hzLKO2f2c

<iframe width="560" height="315" loading="lazy" src="https://www.youtube.com/embed/A7hzLKO2f2c" frameborder="0" allowfullscreen></iframe>

Other video links for Wooden Chopstick Making

Link (1) Wooden Twin Chopstick Making Video

https://youtu.be/b2wrwke8iV0

<iframe width="560" height="315" loading="lazy" src="https://www.youtube.com/embed/b2wrwke8iV0" frameborder="0" allowfullscreen></iframe>

Link (2) Wooden Chopstick Making Factory
https://youtu.be/XwSPE_cAW4E

<iframe width="560" height="315" loading="lazy" src="https://www.youtube.com/embed/XwSPE_cAW4E" frameborder="0" allowfullscreen></iframe>