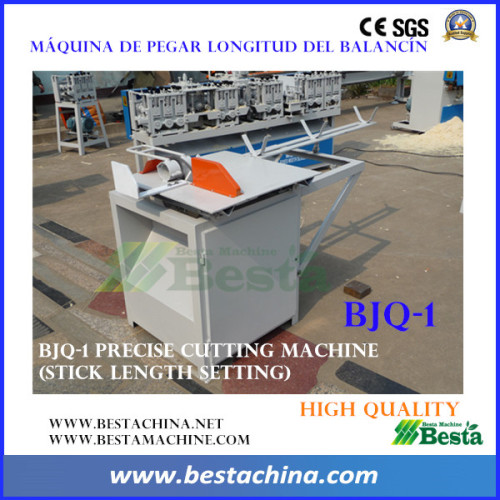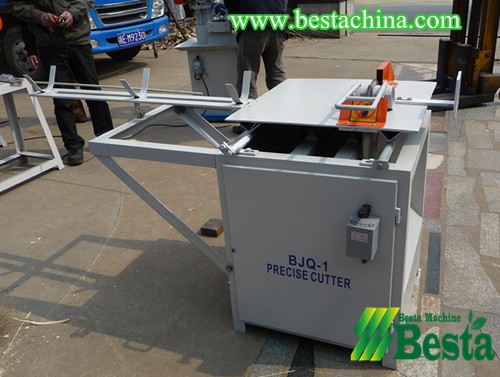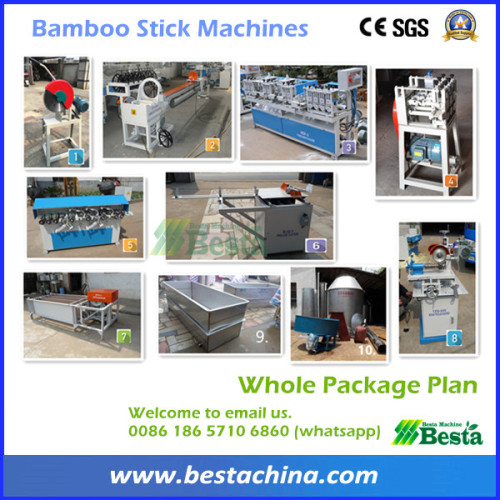 Stick Length Setting Machine, Precise Cutting Machine (BJQ-1)
Description

BJQ-1 Precise Cutting Machine (with 1 saw), Stick Length Setting Machine
Function: Cutting the long bamboo stick into certain length.
VIDEO LINK: http://www.youtube.com/watch?v=gD4I4rSYd2A
Name: Precise Cutting Machine
Main Axis Rotation Speed: 3000RPM
Machine Power: 1.5KW
Saw Diameter: 300MM
Net Weight: 90 KGS

Gross Weight: 120 KGS
Machine Size: 1300*700*750MM
Packing Size: 1130*870*900MM

BAMBOO CHOPSTICK MAKING MACHINE (PRODUCTION LINE) MAIN LIST
1. RAW BAMBOO SAWING MACHINE (cutting bamboo into certain length) ZG-1
2. BAMBOO SPLITTING MACHINE (splitting bamboo into strips) ZP-2500
3. FIXED WIDTH SLICER (width/thickness setting,separate green layer from yellow layer strip) MZP-3
4. SMALL LAYERING MACHINE (Layering thick bamboo strip into 2 pcs) MZP-1
5. BAMBOO STICK MAKING MACHINE (BAMBOO WOOL SLICER) MBZS-5
6. PREICSE CUTTING MACHINE(length setting) BJQ-1
7. BAMBOO STICK POLISHING MACHINE (making surface smooth) BPG-3
8. MEDIUM TYPE BLADE SHARPENING MACHINE (blade maintaining) TZQ-020
Optional Machine: Hot Air Stove Machine/SST-200 Stainless Steel Boiling Tank/other auxiliary equipment etc.
If your bamboo could not work with bamboo knot, we suggest you use model MBZS-2A bamboo wool slicer.

Contact Us:
EMAIL: info@bestachina.com , angelzhou1224@gmail.com
BESTA BAMBOO MACHINE CO., LIMITED.
Contact Person: Angel zhou
MOB: 0086 186 5710 6860
Skype: angel12242008.
Factory Add: Tangpu industry Park, Anji County, Zhejiang Province.
Nearest airport : Hangzhou airport, (Shanghai airport is optional)