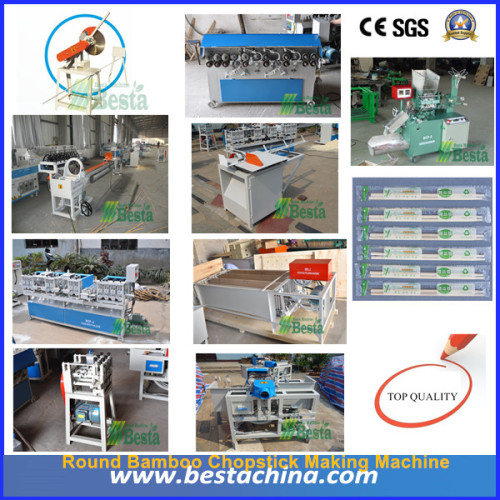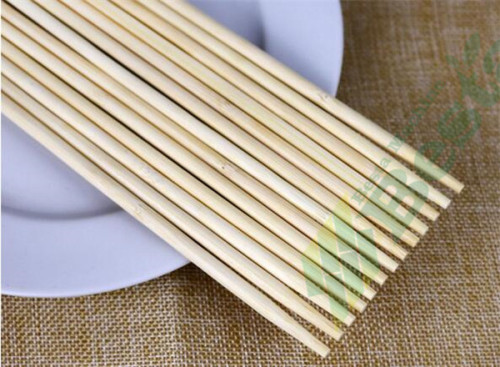 Round Chopstick Making Machine, Bamboo Chopstick Machine
Description

BAMBOO CHOPSTICK MAKING MACHINE IS CONSISTED BY THE FOLLOWING MACHINE,
NO.
NAME OF MACHINE
QUANTITY

1

ZG-1 RAW BAMBOO SAWER

1 SET

2

ZP-2500 BAMBOO SPLITTING MACHINE

1 SET

3

MZP-3 FIXED WIDTH SLICER

1 SET

4

MZP-1 SMALL LAYERING MACHINE

1 SET

5

BJQ-1 PRECISE CUTTING MACHINE

1 SET

6

BPG-2 CHOPSTICK POLISHING MACHINE

1 SET

7

BXJ-2 CHOPSTICK SHAPPENING MACHINE

1 SET

8

BCP-2 CHOPSTICK PACKING MACHINE

1 SET

9

TZQ-020 MEDIUM TYPE BLADE SHARPENING MACHINE



Round Chopstick Size
Diameter: 5mm or 5.5mm or 5.8mm
Length: 20CM or 23CM Can be made according to your needs.
BRAND: BESTA

The following information will be helpful for us
What is the round chopstick diameter, length you want to make ?

How many pairs of chopstick you want to make ?

What is your local working voltage (three phase)

What is your destination port.?

For each machine detailed introduction and price, welcome to email us.
Shipment Port: Shanghai Port

Payemnt: T/T in advance
Packing: Plywood Case
Delivery Time: Within 25 days after confirmation .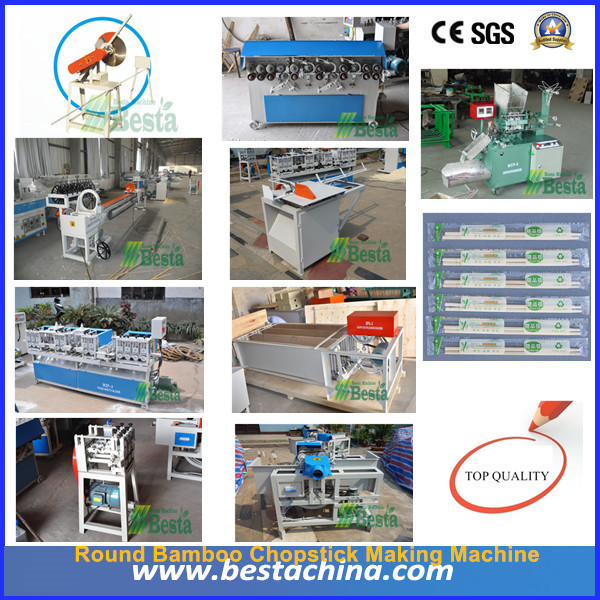 BESTA BAMBOO MACHINE CO., LIMITED.
EMAIL: info@bestachina.com
MOB: 0086 186 5710 6860 (WHATSAPP)
Contact Person: Angel Zhou
Skype: angel12242008
Wechat ID: ilikechanging

CHOOSE BESTA, CHOOSE SUCESS
1.Brand Strength –BESTA-famous brand in the world.
We are the most professional machine supplier who is professional in the bamboo and wood working machine.
More than 15 years experience,worldwide customers.
2.Overall Ability
Fluent English Communication ability and customer reception ability.
Familiar to various industries related to machineries and whole package plan for customers.
Professional in international trade, skillful in the operation of the shipping documents
Efficient and flexible transportation capacity, including sea,landand air transportation.
3.Expert Guidance
Offer professional proposal to our customers.
4.Golden Service
Quick response within 8 hours
Detailed Machine List for making round bamboo Chopsticks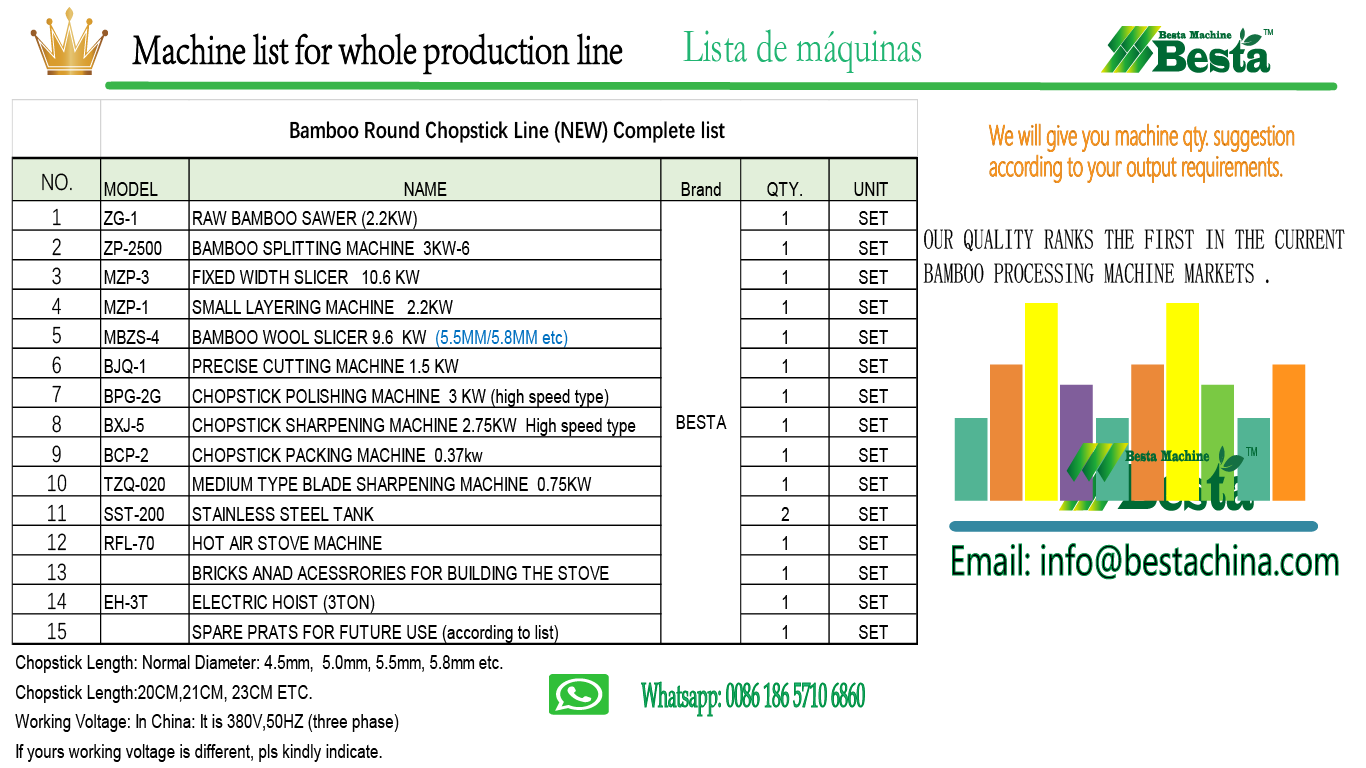 Our Round Chopstick Making Machine Testing Videos


Video (1) Subject: Our Bamboo Chopstick Machine Testing Video
Link: https://youtu.be/JcUa0_JKBOI
<iframe width="560" height="315" loading="lazy" src="https://www.youtube.com/embed/JcUa0_JKBOI" frameborder="0" allowfull
screen></iframe>


Video (2) Link Bamboo Chopstick Polishing and Sharpening Machine
(in real production )
Welcome to visit https://youtu.be/exaea3JKQLc

<iframe width="560" height="315" loading="lazy" src="https://www.youtube.com/embed/exaea3JKQLc" frameborder="0" allowfullscreen></iframe>


Video (3) Twin Chopstick Selecting Machine (CSM-200)
https://youtu.be/Fs3oAwLY9d8

<iframe width="560" height="315" loading="lazy" src="https://www.youtube.com/embed/Fs3oAwLY9d8" frameborder="0" allowfullscreen></iframe>


Video (4) Round Chopstick Quality Control Machine Video
https://youtu.be/jPjv5F95ySc

<iframe width="560" height="315" loading="lazy" src="https://www.youtube.com/embed/jPjv5F95ySc" frameborder="0" allowfullscreen></iframe>



Video (5) Round Square Shape Chopstick Shape Forming Machine Video
https://youtu.be/A7hzLKO2f2c

<iframe width="560" height="315" loading="lazy" src="https://www.youtube.com/embed/A7hzLKO2f2c" frameborder="0" allowfullscreen></iframe>

Other video links for Wooden Chopstick Making


Link (1) Wooden Twin Chopstick Making Video

https://youtu.be/b2wrwke8iV0

<iframe width="560" height="315" loading="lazy" src="https://www.youtube.com/embed/b2wrwke8iV0" frameborder="0" allowfullscreen></iframe>

Link (2) Wooden Chopstick Making Factory
https://youtu.be/XwSPE_cAW4E

<iframe width="560" height="315" loading="lazy" src="https://www.youtube.com/embed/XwSPE_cAW4E" frameborder="0" allowfullscreen></iframe>