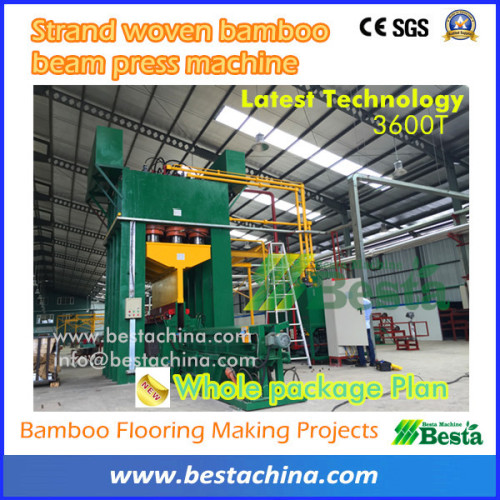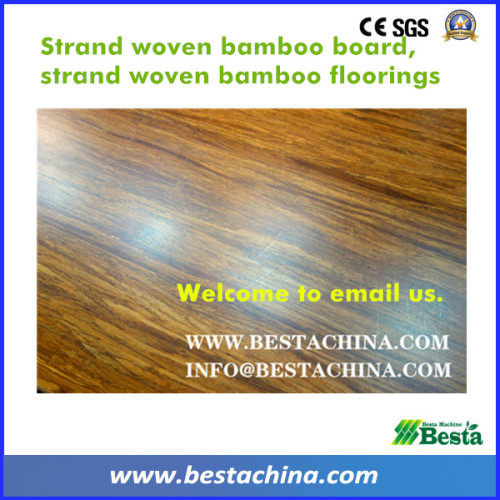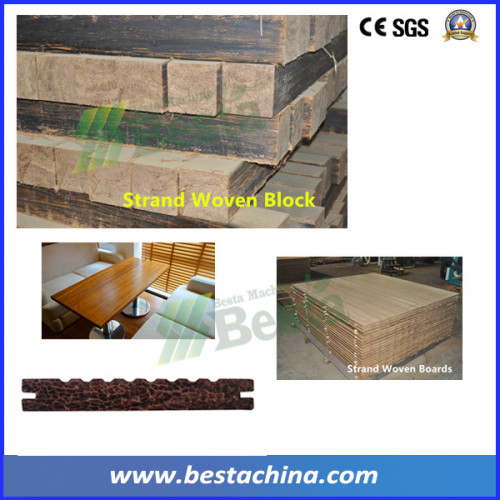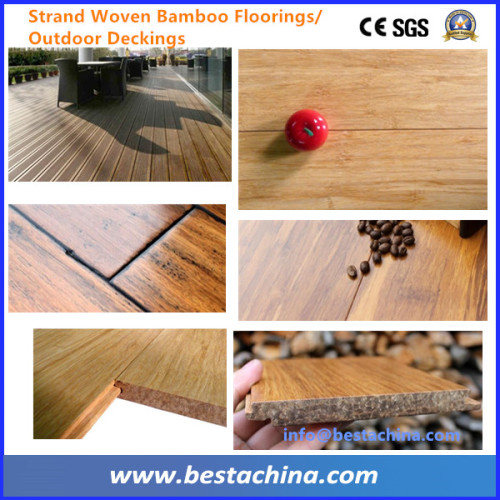 Strand Woven Bamboo Furniture Board Line (whole package plans)
Item specifics
strand woven bamboo flooring machine

bamboo furniture board machine
bamboo flooring lines

strand woven bamboo machines
Description
World Best Strand Woven Bamboo Furniture Board Machine Supplier.
World Best Strand Woven Bamboo Flooring Making Machine Supplier.
MODEL: YD12-3600
Strand Woven Bamboo Beam Press Machine, Oil Press Machine
MACHINE SIZE: 2550*2600*5500MM
Working Table Size: 2500*1500MM
Weight: 80 tons
Application: Making Stranded glued bamboo strip into
strand woven beam. (3500*140*143mm)
Type of Press: Oil hydraulic Press
Type of Oil Cylinder : 12 numbers of cylinder
Diameter of main oil pipe : 76*8mmm
Diameter of Cylinder : 380mm
Motor : Two 30KW electric motor and one 5.5 KW motor
Main Oil Pump : two 160L plunger pumps
​Max. Pressure: 3500 Tons

Cylinder Stroke : 850MM
Electrical Control System: Mitsubishi PLC control systems.
Capacity: 500 PCS block/day per 20 hours.
KEY WORKD: Hydraulic Press/cold press/strand woven bamboo beam shape forming.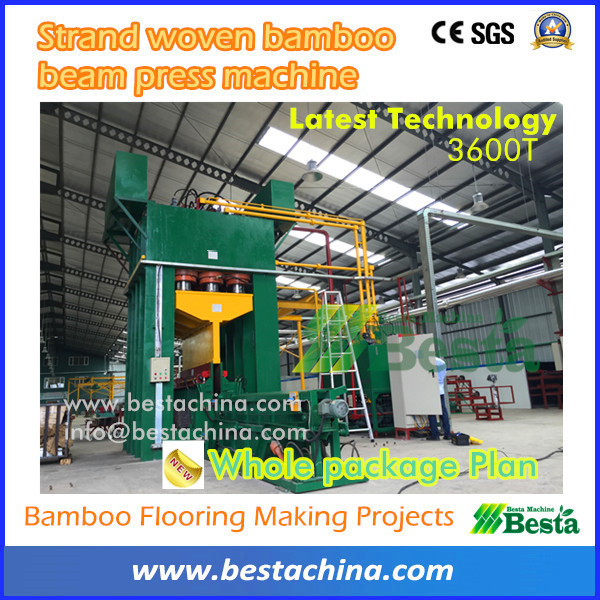 A complete set of Strand Woven Bamboo Flooring Machines ,
it is consisted by the following machines,

Primary Stage Machine for raw material preparation
Slicing Machine and Stranding Machine
Carbonizing Tank and Boiling Tank

Second Stage of Making Strip into strand woven bamboo furniture boards/block
b) Hydraulic Press Machine /Loading Machine/Unloading Machine/Blocks Moulds
c) Solidification Tunnel (Block Curing Machine
e) Block Mould Removing Machine
f) Two end cutting Machine
g) Side Trimming Machine of Strand woven beam.
h) Multi-blade Dissection Machine ( ex. making into 14mm thickness)

Flooring Moulding and Coating Lines
It is consisted by a series of four side planing machine, moulding of floorings, flooring
sanding/painting/package machine. You will get finished ready for selling floorings.
1. Our machines have the best quality all over the world. Our strand woven bamboo production lines are used more than 45 factories.
The sales of Strand woven bamboo flooring which are made by our production line isabout 0.3 billion every year.
Our newest product line can work normally without repairing for more than one year.
2. Our strand woven bamboo machines and technology is the best.
We are the first company who makes the strand woven bamboo flooring and develops the market.
Wehave set up 40 factories in different area in china and foreign countries. We try to make the strand woven bamboo using
different kinds of bamboo and in differentareas. So we have rich experiences.
The strand woven bamboo products which are made by our production line and technology can meet
industry standards and export standards. We also join in making the industry standards.
3. We provide good service. We provide the machines, the detailed plan of the Strand wovenbamboo flooring product line.
(including machines list, Factory design,machines layout drawing and all the things you should prepare),processes and technology,
training and good after selling service.

Welcome to send email for further communications.
We sincerely wish we could have the chance of cooperation with you.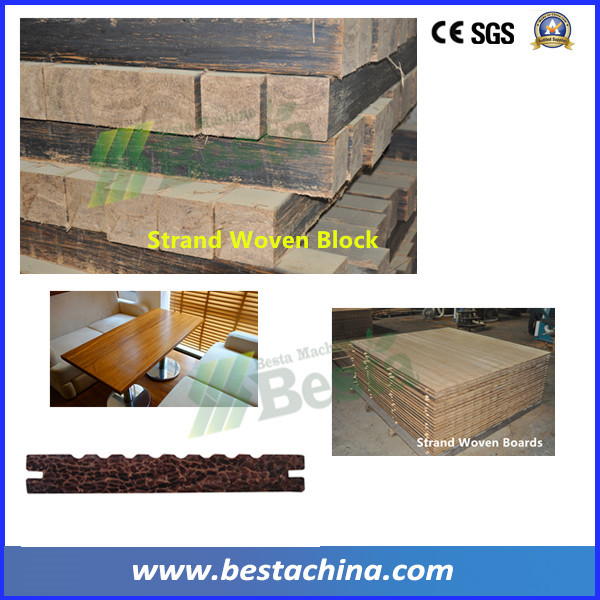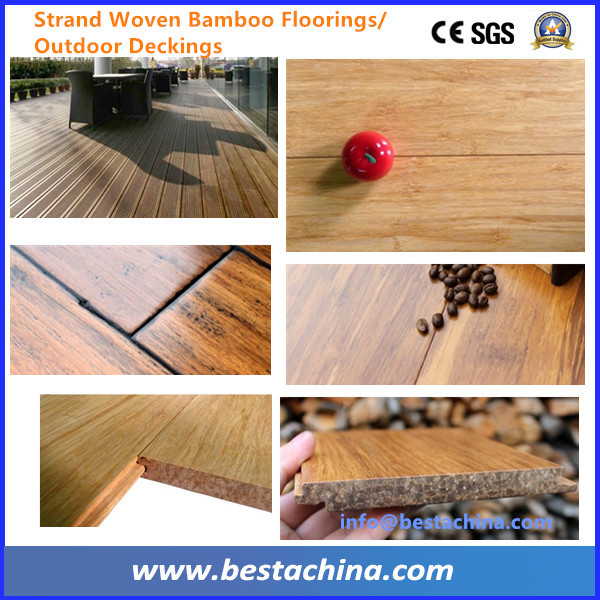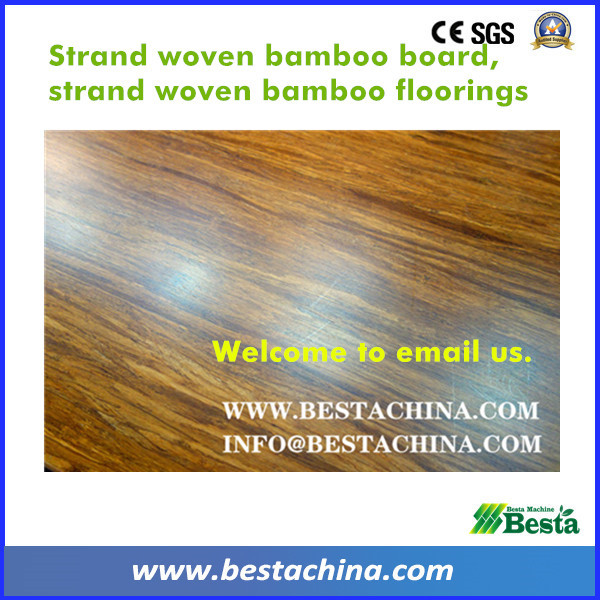 BESTA BAMBOO MACHINE CO., LIMITED.
EMAIL: info@bestachina.com
MOB: 0086 186 5710 6860 (WHATSAPP)
Contact Person: Angel Zhou Wechat ID: ilikechanging