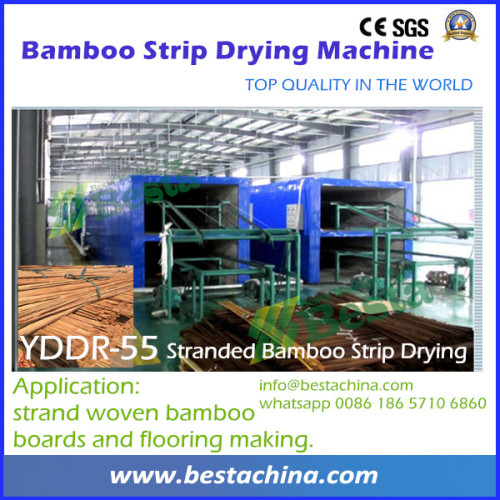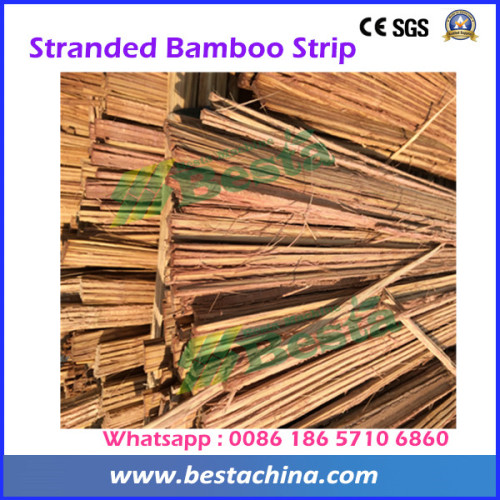 Bamboo Strip Drying Machine, Bamboo Flooring Line (strand woven)
Description
CHINA BEST BAMBOO FLOORING MACHINE SUPPLIER, STRAND WOVEN BAMBOO FLOORING MACHINE SUPPLIER.
YDDR-55 Strip Drying Machine, Bamboo Strip Drying Machine,
Bamboo Strip Drying Tunnel
Application: Strand Woven Flooring Making
Electricity Power Input: 380V,50HZ
Power: 24 KW
Dimension Size: 3.2M*2.4M*55Meter
Speed: 0.7 meter/Min---7Meter/min
Numbers of Fans: 14
Numbers of Layer: 2 layers
Heating Medium: Steam or Oil
Output: 20 Tons materials per 18 hours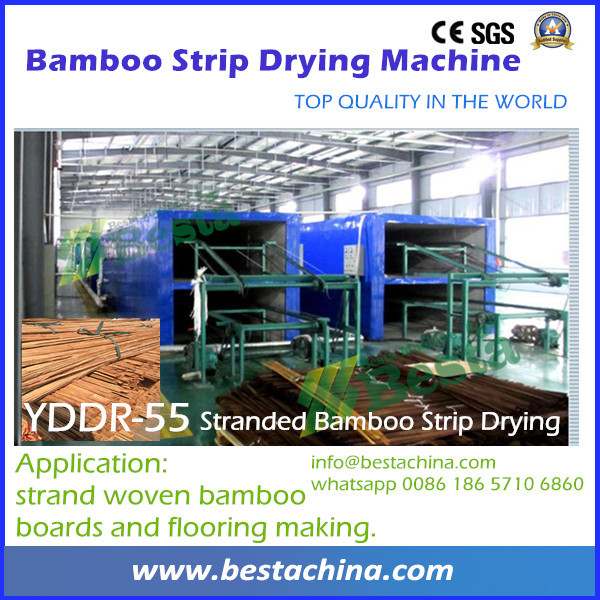 When you will need this" Strip drying machine"?
Strand woven bamboo beam/flooring making has its unique process,
1. After steaming of strip/After the carbonizing of bamboo strip, you need this machine to make the the strip dried.
2. After dipping the strip into glue and before presssing them into strand woven beams, you also need this machine.
For one production line, we kindly suggest you to buy 2 SETS of YDDR-55 strip drying machine.
For a better understanding about our whole production line of strand woven flooring making,
,welcome to email us for the product catalogue and pricelist. We will send you very detailed project proposals.

Primary Stage Machine for raw material preparations
​Raw Bamboo Cutting Machine
Bamboo Splitting Machine
Strip Slicing, Layering, Stranding Machine (bamboo crusher)
Boiling Tank or Carbonization Tank for strip processing.
Glue Dipping Machine

Second Stage of Making Strip into strand woven bamboo furniture boards/block
Key Machines
1) Strip Drying Machine
2) Hydraulic Press Machine/MaterialLoading Machine/Material unloading Machine/Mould Cavity /Moulds for StrandWoven Beam
3) Solidification Tunnel (BlockCuring Machine)
4) Strand Woven Block Cooling Machine
5) Strand Woven Block Mould Removing Machine
6 ) Two end cutting Machine
7) Side Trimming Machine of Strand woven beam.
8) Multi-blade Dissection Machine (making into 14mm thickness)
9) Sanding Machine
10) Balance Room

3. Flooring Moulding and Coating Lines
FLOORING SHAPE FORMINGMACHINE/COATING LINES/PACKING MACHINE
CHOOSE BESTA, CHOOSE SUCESS.
Our machines have the best quality all over the world. Our strand woven bamboo production lines are applicated in more than 45 factories.The sales of Strand woven bamboo flooring which are made by our production line isabout 0.4 billion every year.
Our newest product line can work normally without repairing for more than one year. We keep innovation all the times.


Our strand woven bamboo machines andtechnology is the best. We are the first company who makes the strand wovenbamboo flooring and develops the market.We have set upfactories in different area in china and foreign countries. We try to make the strand woven bamboo using different kinds of bamboo and in differentareas.So we have rich eaxperiences. The strand woven bamboo products which are madeby our production line and technology can meet industry standards and export standards.We also join in writting the flooring machine industry standards.
​
We provide good service. We provide the machines, the detailed plan of the Strand woven bamboo flooring product line.(including machines list, Factory design,machines layout drawing and all the things you should prepare),processes and technology, training and good after selling service.