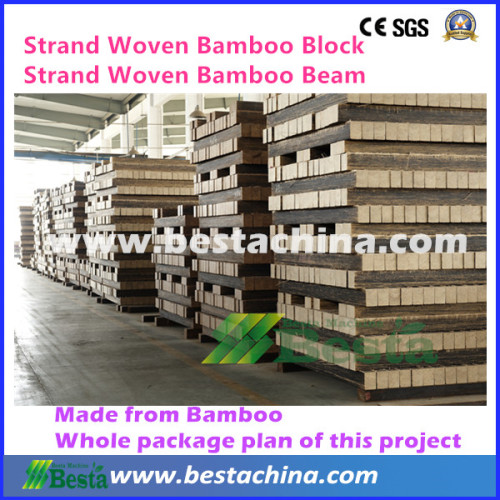 Strand Woven Bamboo Furniture Board Line (Machine Supplier)
Description

Professional strand woven bamboo flooring machine supplier
--Besta Bamboo Machine Co., Limited. (CHINA)

Key Machines
Glue Dipping Machine
Bamboo Strip Drying Machine (2 sets)
Stand Woven beam/block Press (complete set)
(making glued dried strip into bamboo blocks. etc. (2500*140*143mm) It is consisted by Press body/mould cavity/ material loading machine/ unloading machine/ moulds etc)
Block Curing Machine (solidification tunnel)
Block Cooling Machine
Mould Removing Machine
End Cutting Machine
Side Trimming Machine
Multi-blade Sawing Machine (or Frame Sawing Machine. )
Sanding Machine
Balance Room
We have detailed project proposal, machine list with photos/techincal datas/all the
things related to this projects. Welcome to email us for more detailed informations.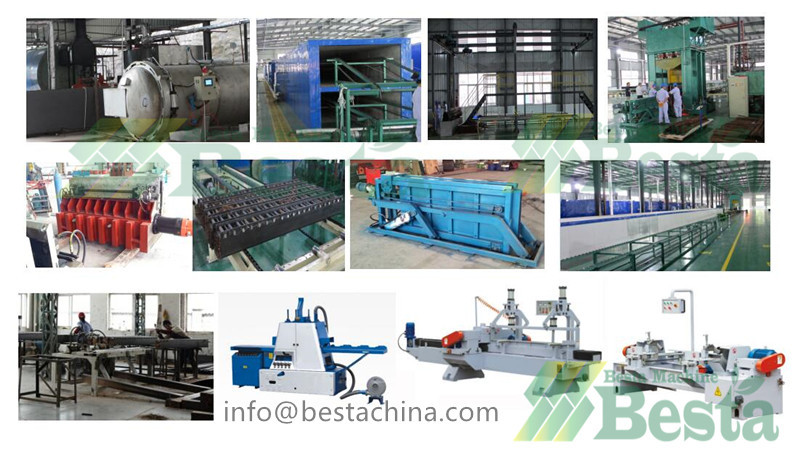 The Process of Making Bamboo into Strand Woven Bamboo Flooring (as follows)
1. Primary Stage (making bamboo into bamboo strands)
Bamboo Cutting/Splitting/Slicing/Stranding/
Carbonization or Stick Boiling /Drying of bamboo strips.
2. Secondary Stage of Process
Glue dipping/Drying/strand woven bamboo beam pressing (block making)/solidating process (curing)/cooling/mould removing/end cutting/side trimming/sanding/
3. Third Stage of Process: Making strand woven board into strand
woven bamboo flooring (a series of machine)

Strand Woven bamboo funiture board/Flooring Making Process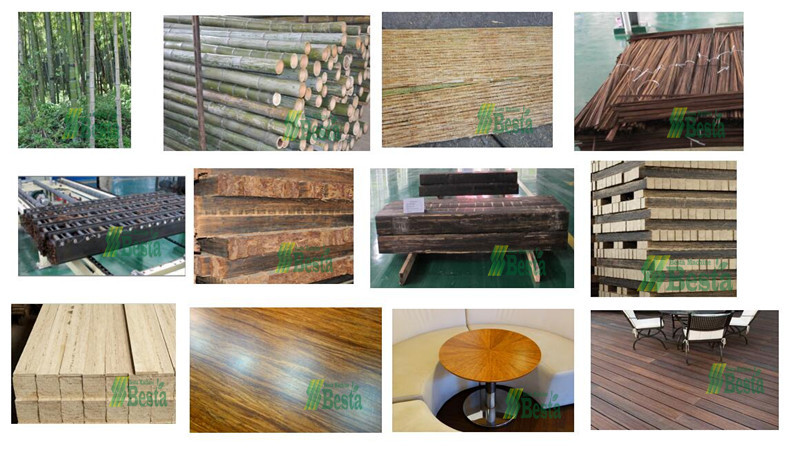 Welcome to email us directly for more detailed information.

HIGH QUALITY, EXCELLENT SERVICE
1. Our BESTA brand Bamboo Processing Machine are widely exported to more than 30 countries and is the world top quality bamboo machines. We keep innovation all the times. We have rich experiences both in China and abroad Countries like India, Indonesia, African countries, South American countries, etc. We have set up factories in different area in china and foreign countries. We have made the strand woven bamboo using different kinds of bamboo and in different areas.
​

2. Our latest product line can work normally without repairing for more than one year. We can offer a whole package plan for our customers, including machines, technology, layout, training and services. We can make sure you can make high quality strand woven bamboo boards or strand woven bamboo floorings.
3. The strand woven bamboo products which are made by our production line and technology can meet industry standards and export standards. We have confidence to say that we are your right and professional business partner and will help you to sucess.
4. For detailed strand woven bamboo flooring project proposals, welcome to email us. For all the things you concerned, welcome to email us. Email: info@bestachina.com (Angel Zhou)
CHOOSE US, CHOOSE PROFESSIONAL ---DIRECT WAY TO SUCESS.

CONTACT US
BESTA BAMBOO MACHINE CO., LIMITED.
Angel Zhou 0086 186 5710 6860
angelzhou1224@gmail.com
info@bestachina.com
Skype: angel12242008
www.bestachina.com
www.bestamachine.com
(whatsapp, LINE software )