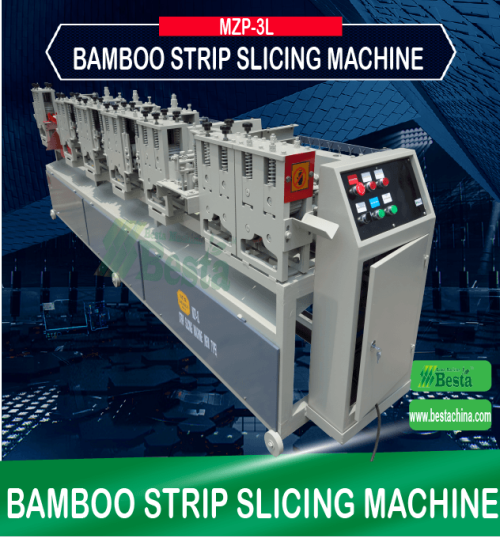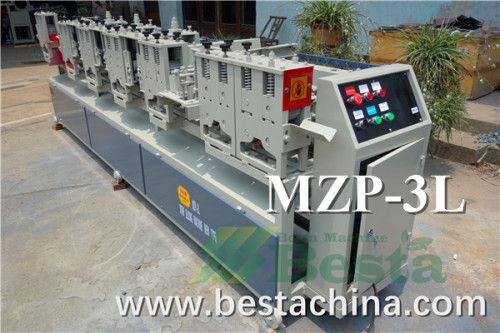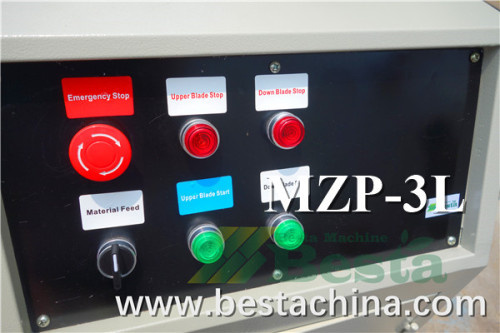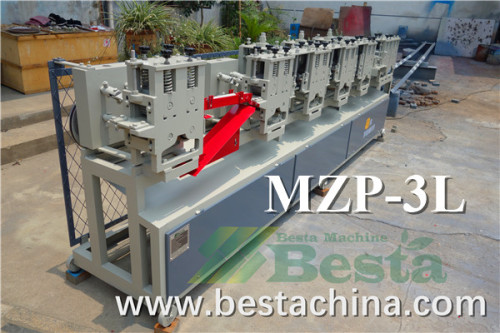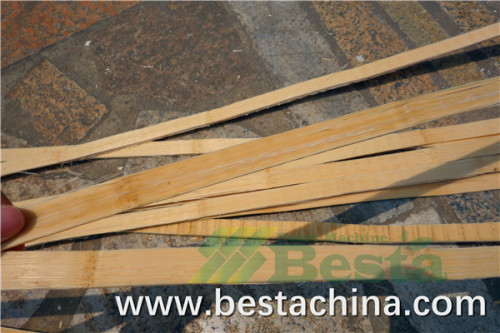 High speed MZP-3L bamboo strip slicing machine, bamboo flooring machines
Item specifics
bamboo flooring machine

bamboo flooring machine
strip slcing machine

strip slicing machine
Description

MZP-3L STRIP SLICING MACHINE (NEW MACHINE)
It is mainly designed for slicing very thick bamboo into 3 pcs
at one time. It can be applied in strip making and bamboo
flooring making industries.

TECHNICAL DATA

BRAND: BESTA
*MOTOR POWER IN TOTAL :16.8 KW
Working motor: For China, 380V,50HZ
For India, 415V,50HZ or 440V/50HZ
FEEDING : 2.2KW*3SETS
DOWN FLAT BLADE : 2.2KW*1SET
UPPER FLAT BLADE 1: 4KW*1 SET
UPPER FLAT BLADE 2: 4KW*1 SET
MAIN AXIS ROTATING SPEED :3500R/MIN
THE SPEC. OF FLAT BLADE SIZE :Φ80*Φ25.4*70*10T
THE FLAT BLADE EQUIPPED :3 PCS
WIDTH OF LAYERING BLADE :75 mm
QTY. OF LAYERING BLADE EQUIPPED:2PCS
WIDTH OF WIDTH SETTING BLADE:75 mm
PROCESSING THICKNESS (including strip knot thickness) :5 TO 25 mm
PROESSING WIDTH :16 TO 50mm
FEEDING SPEED :90M/MIN
NET WEIGHT :1220KGS
COMPARED TO FORMER DESIGNS, IT CAN MORE MERITS.
MOTOR BRAND: WANAN BRAND-GOOD BRAND
IT IS DESIGNED WITH CONTROL CABINET WHICH greatly improve
the machine stability, OVERLOAD PROTECTION OF MOTORS.
FORE MORE DETAILED INFO, WELCOME TO EMAIL US.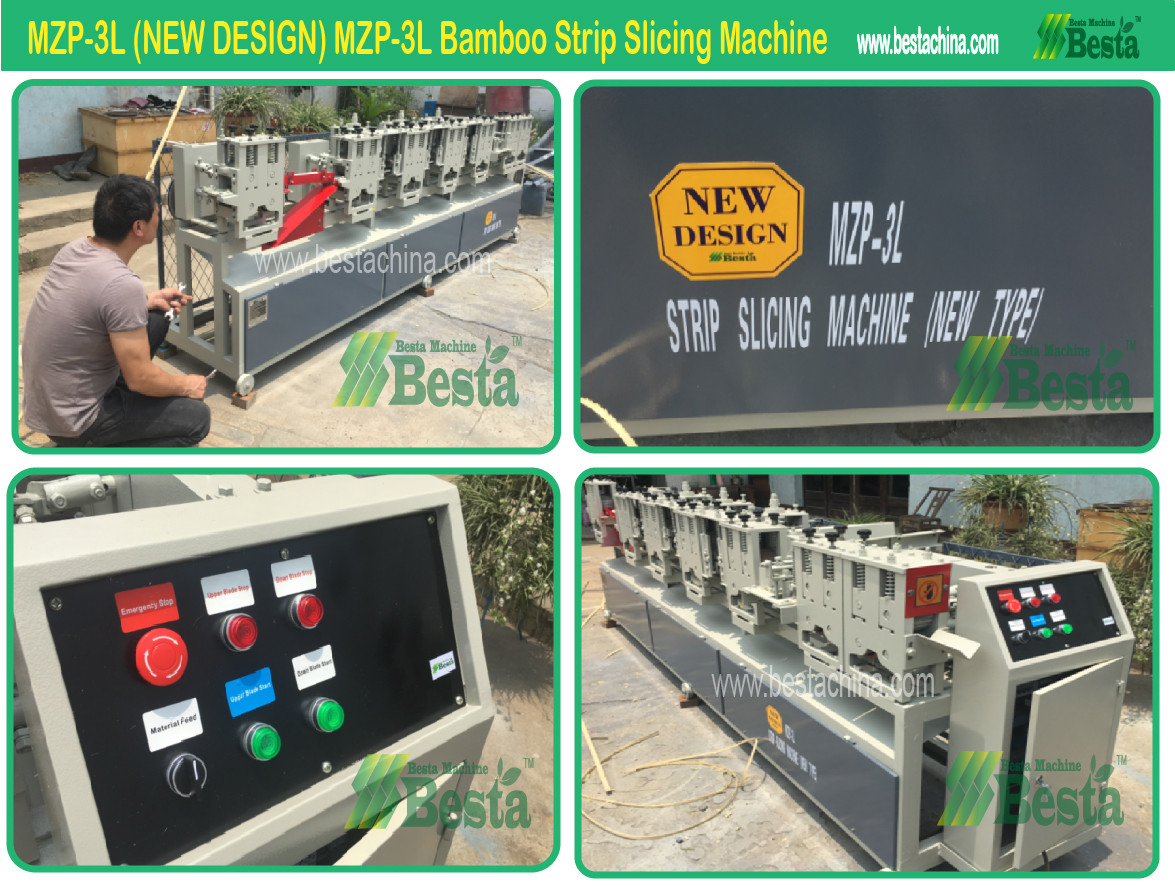 THIS MACHINE IS OUR NEW UPDATED DESIGN OF
3 LAYER BAMBOO STRIP SLICING MACHINE
MODEL : MZP-3L (NEW TYPE)
VIDEO LINK :https://youtu.be/MazjFf5G15k
<div style="position:relative;height:0;padding-bottom:56.25%"><iframe src="data:image/png;base64,R0lGODlhAQABAAD/ACwAAAAAAQABAAACADs=" data-src="https://www.youtube.com/embed/MazjFf5G15k?ecver=2" width="600" height="430" frameborder="0" style="position:absolute;width:70%;height:70%;left:0" allowfullscreen></iframe></div>
Our customers
Every year, we will receive customers from different countries, notably customers from India, Indonesia, Nigeria, Tanzania, the Philippines, Burma, Colombia, Mexico, Brazil, Iran, Uzbekistan , Egypt and other countries We communicate with customers sincerely and show them our factory and production line. Customers are very satisfied with our machines and services. We sincerely hope that all the customers who want to run the factory can achieve a great success with the help of our professional services. Thank you for choosing BESTA.
We appreciate your trust and thank you for your friendship.
We are good partners and friends forever.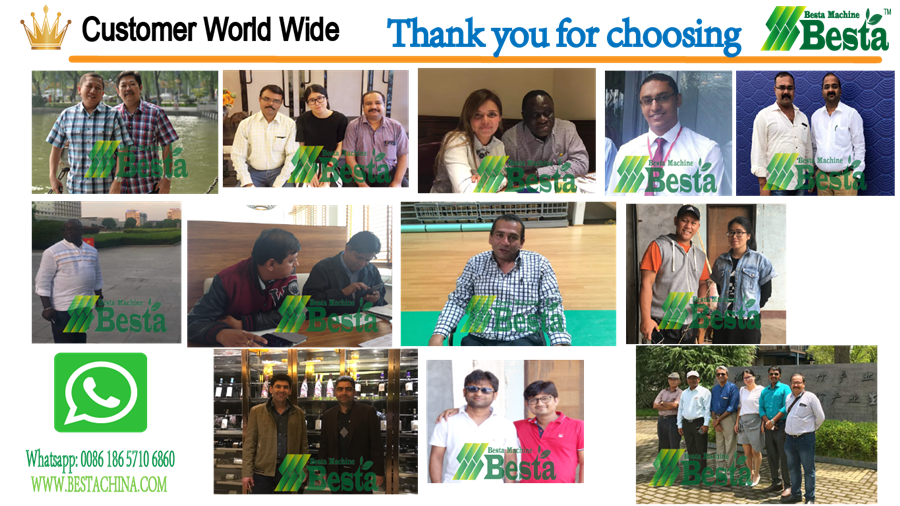 Welcome to contact us via email.
Email: info@bestachina.com
MOBILE: 0086 186 5710 6860
Contact Peson: ANGEL ZHOU
www.bestachina.com
www.bestamachine.com
Welcome to contact us.
Welcome to visit us.