MBZS-4 Bamboo Wool Slicer
This machine can be applied in making round or square bamboo stick ex.
2.0mm, 2.5mm, 3.0mm, 4.0mm, 5.0mm, 5.5mm, 6.0mm etc.
This machine can make different size or shapes of bamboo by equipped
with different size of shaping blades.
Name

Bamboo Wool  Slicer;

Bamboo Stick  Making Machine

General Power

9.5 KW

Main Axis Speed

4600 RPM

Mechanical Size

1250*1000*950MM

Net Weight

600 KGS

Packing Size

1290*1040*1050 MM

Gross Weight

680 KGS

Function

Slicing the bamboo strips into bamboo  sticks.

When you order this machine, pls kindly  let us know

Shape and Size of the Sticks. Thank you.
Concerned Things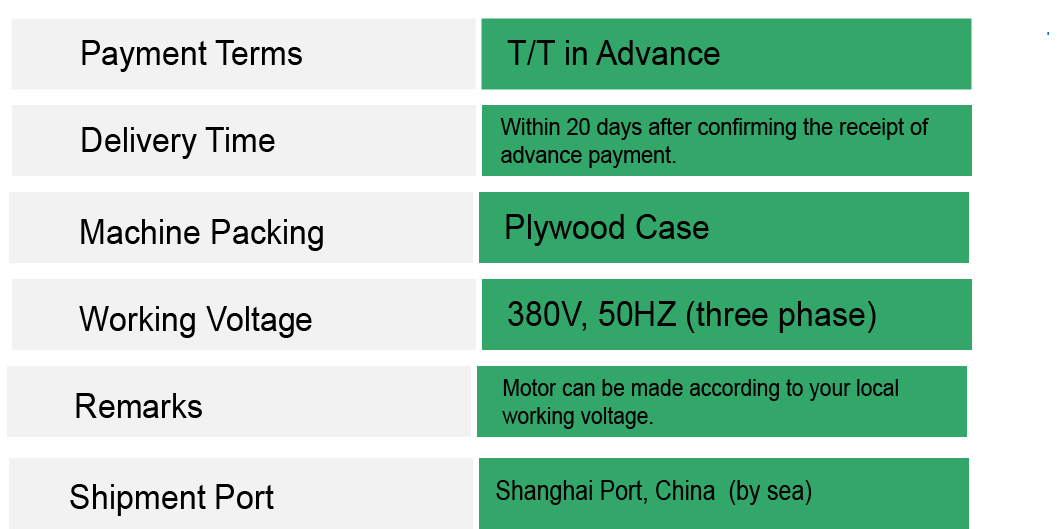 WELCOME TO VISIT OUR MACHINE PERFORMANCE IN THE FOLLOWING VIDEO LINK

http://www.youtube.com/watch?v=2xSMaPEQ5Ek
http://www.youtube.com/watch?v=CaPU_4JzIM8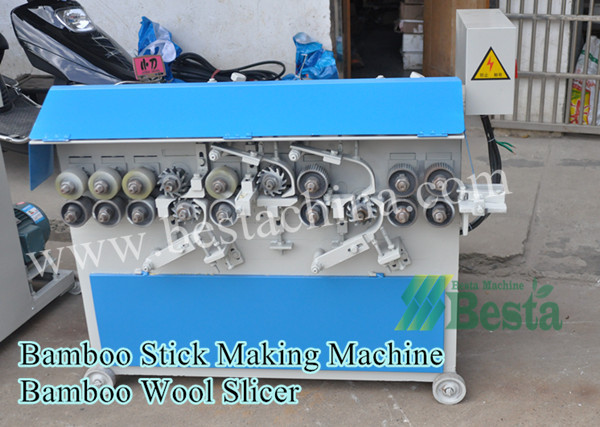 Bamboo Sticks Made by This Machine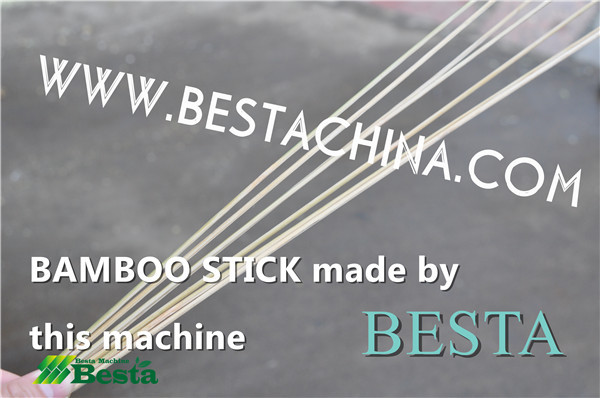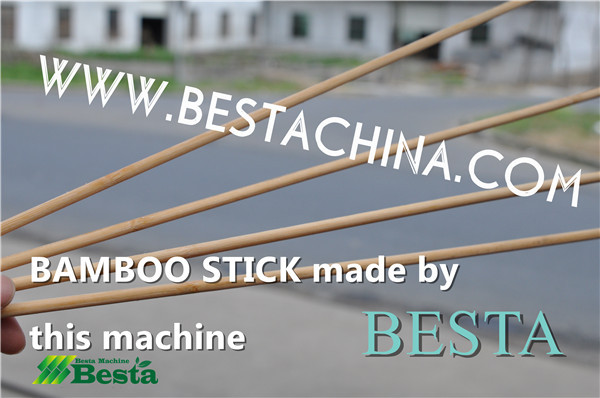 When you buy our MBZS-4 Bamboo Wool Slicer, do not forget to buy the following spare parts (Shaping blade, Rubber Roller, Belt)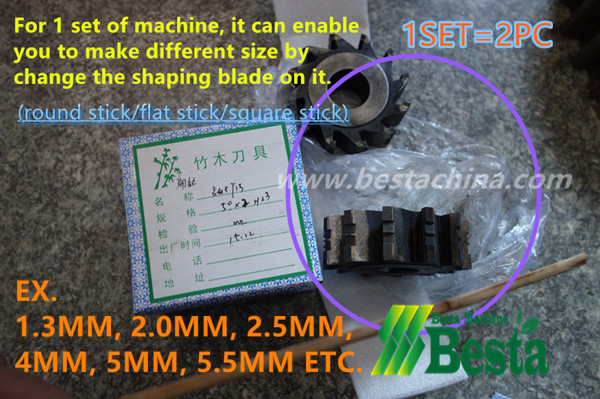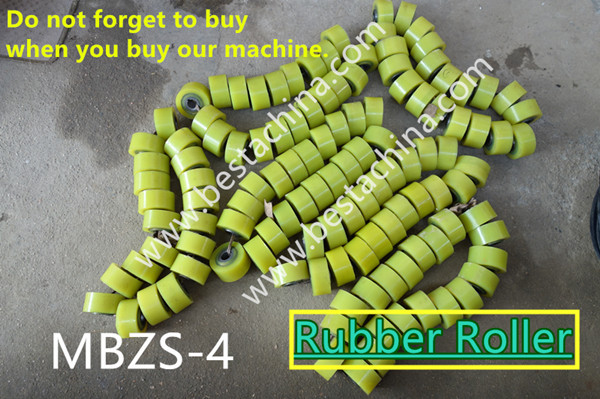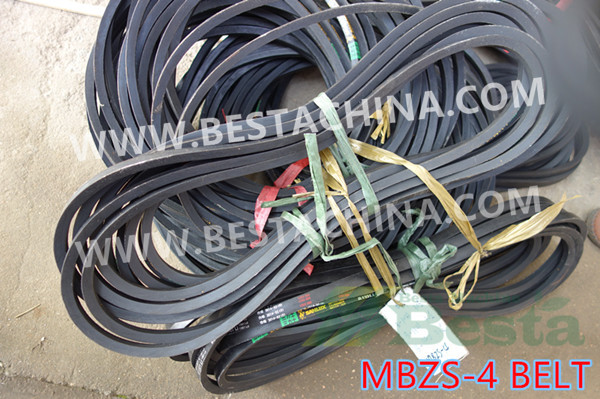 ANGEL ZHOU
Besta Bamboo Machine Co., Limited.
MOB: 0086 1865710 6860 (whatspp/wechat)
Skype: angel12242008
Email: info@bestachina.com angelzhou1224@gmail.com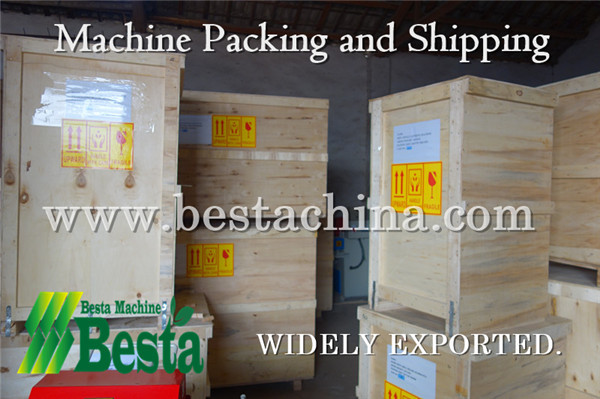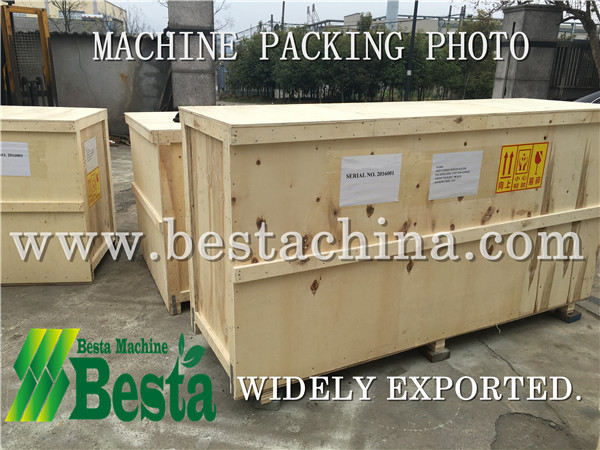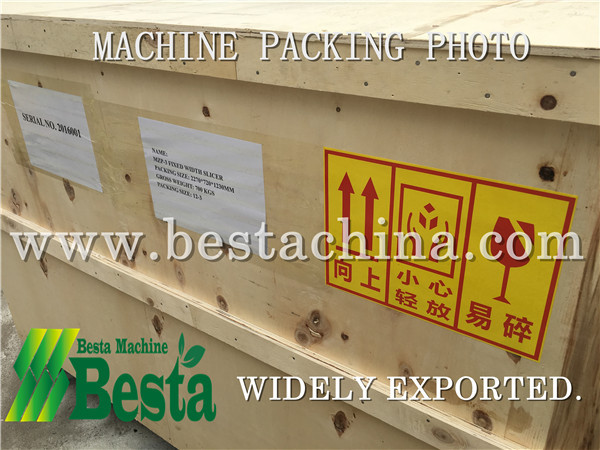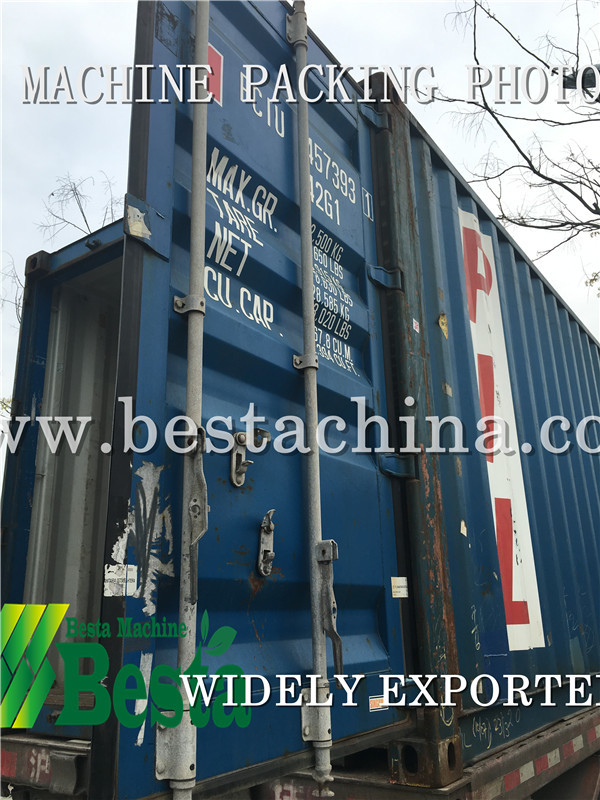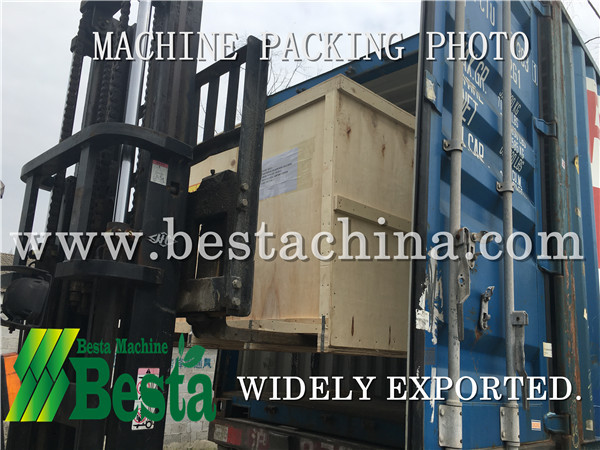 Our Round Chopstick Making Machine Testing Videos 


Video (1) Subject: Our Bamboo Chopstick Machine Testing Video 
 Link: https://youtu.be/JcUa0_JKBOI
screen>


Video (2) Link Bamboo Chopstick Polishing and Sharpening Machine 
(in real production )
Welcome to visit  https://youtu.be/exaea3JKQLc


Video (3) Twin Chopstick Selecting Machine (CSM-200)
https://youtu.be/Fs3oAwLY9d8


Video (4) Round Chopstick Quality Control Machine Video
https://youtu.be/jPjv5F95ySc



Video (5) Round Square Shape Chopstick Shape Forming Machine Video 
https://youtu.be/A7hzLKO2f2c

Other video links for Wooden Chopstick Making


Link (1)  Wooden Twin Chopstick Making Video

https://youtu.be/b2wrwke8iV0

Link (2)  Wooden Chopstick Making Factory 
https://youtu.be/XwSPE_cAW4E

The production line list of Round Bamboo Chopstick Making 
For making round chopsticks , from bamboo to finished product, it need many
machines. Currently, all the machine shall be operated by workers. 
Each machine has each machine functions, ex. cutting bamboo, 
bamboo splitting, knot removing, width and thickness  setting, round stick making, bamboo stick
boiling tank and drying equipment, setting the chopstick into certain length, 
Chopstick sharpening (shape forming of chopstick), chopstick packing process. 

Our company has been in this industry more than 15 years and our chopstick making 
machines are ranks top one quality in the current markets. We insist innovation of machines all the times
and pay much attention to our machine quality. Choose us, Choose Best Quality & Professional
Services. Welcome to email us.  Email: info@bestachina.com (ANGEL ZHOU)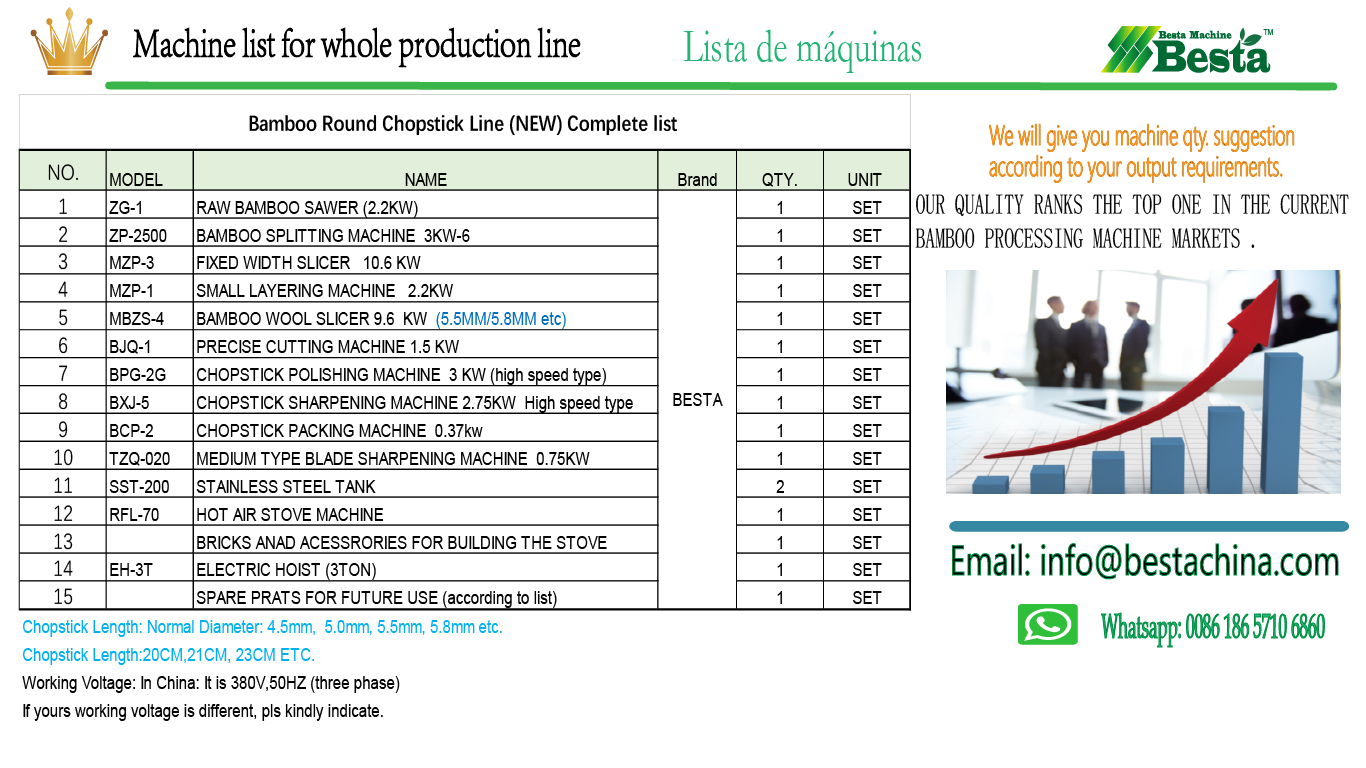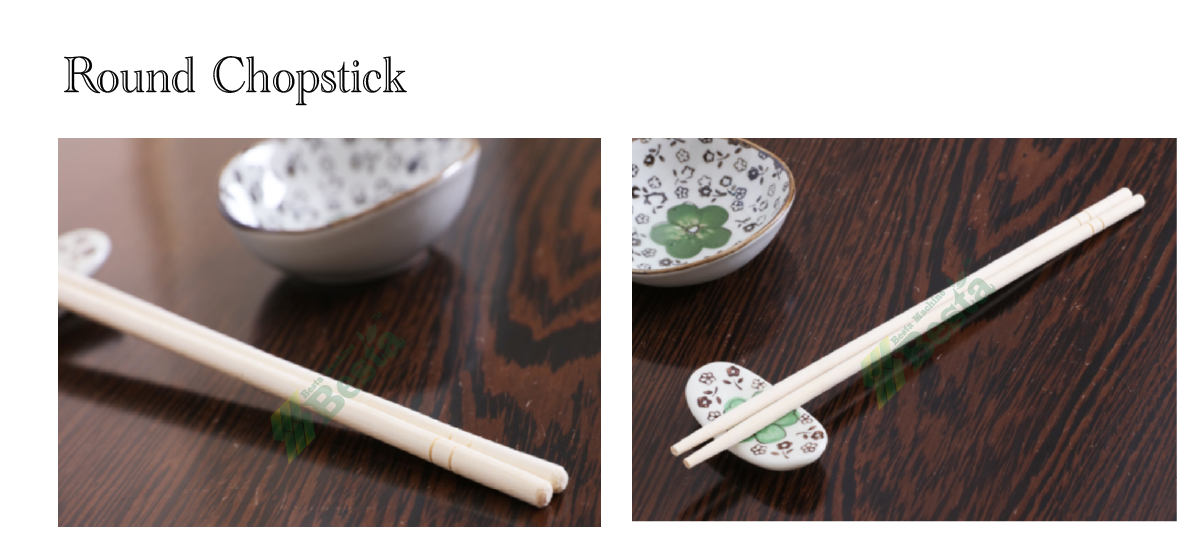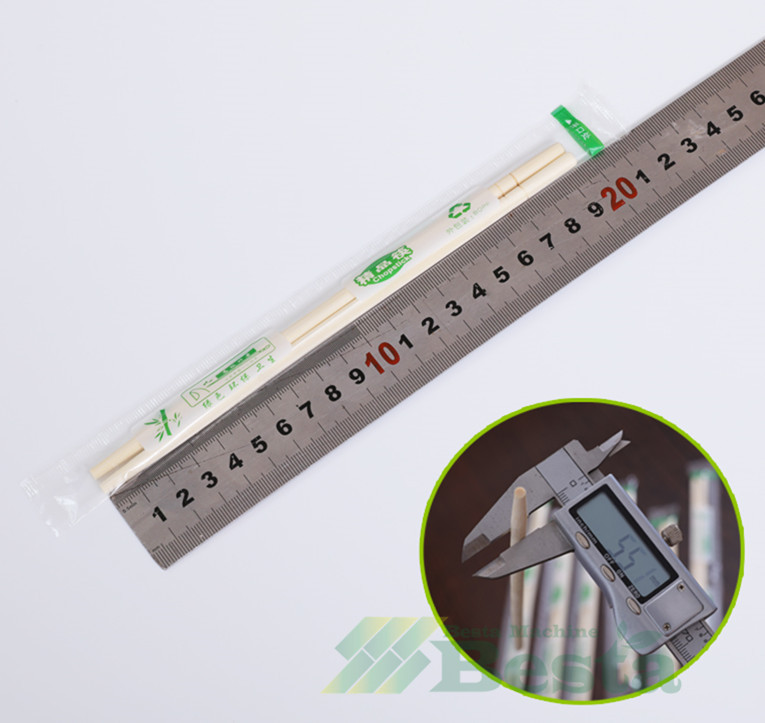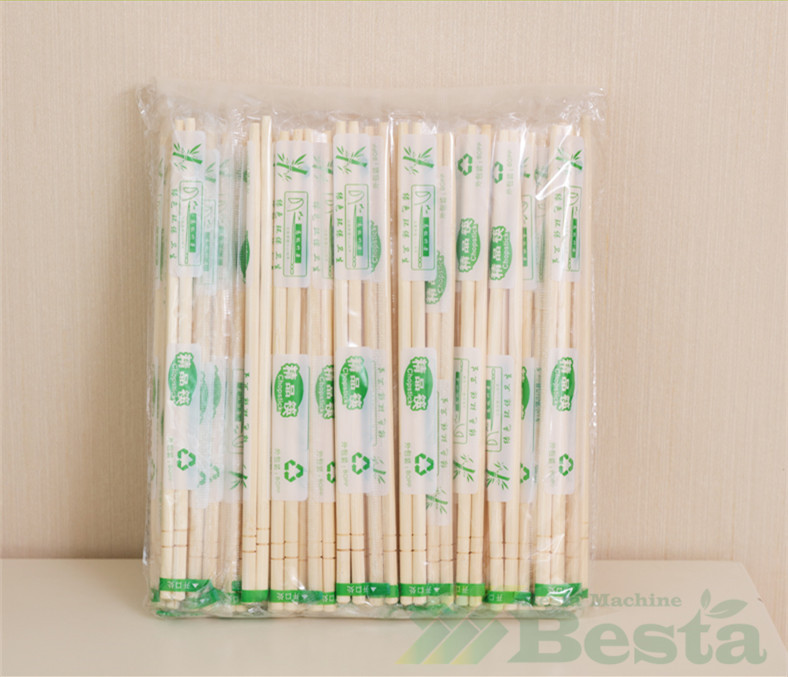 Our Customers 
We receive a great many of customers from different countries each year, notably customers from India, 
Indonesia, Nigeria, Tanzania, Ghana, the Philippines, Burma, Colombia, Mexico,  Brazil, Iran, Uzbekistan,
Egypt and other countries.We have gained a lot of trust and received many orders. 
Why our customers are preferring to cooperate with BESTA?
1. High Quality Machine & Advance Technology 
We can ensure the machines you bought from us have the advance technology.
We keep innovation of our machine all the times. After more than 15 years of machine making and marketing,
we have customers in more than 30 countries. Our sales turnover is quickly increased. 80% of the abroad 
markets are using our BESTA MACHINE BRAND.  BESTA is world famous brand in bamboo and wood working 
machines. It is bamboo machine expert. 
HIGH QUALITY--It is our promise to every customer. 
2. Professional  Knowledge in Our Industry.
We know our machine well and crafts of how to make the product well.
In this industry, we are the most professional company. You will get 
the direct way to sucess. We will make you everything clear before buying.
We will do what we promised. It is our principle. 
3. Excellent Services 
Before you buying our machines, we will send you detailed catalog and pricelist.
Making you understand how to make the product very well. We will send you 
all information necessary for your understanding. 
After you buying our machines, when the machines are ready, we will send you 
machine and packing photos, videos, shipment details and also documents which 
are needed for your customs clearance. We are professional in handling exporting 
of our machines. 
4. The aim of helping every customer suceed in product making. 
We will pay much attention to machine detail and also give you good suggestions. 
5. Continous support for future running. 
In future, as we are factory. if you need any spare parts for the machines, welcome
to contact us. 
6. Quick reply within 12 hours. 
Welcome to send email to us for get detailed reply. Email : info@bestachina.com 
or angelzhou1224@gmail.com 
Thank you for choosing BESTA. 
We appreciate your trust and thank you for your friendship. 
We are good partners and friends forever.
For the video link for checking, welcome to visit 
https://www.youtube.com/user/toothpickmachine/videos