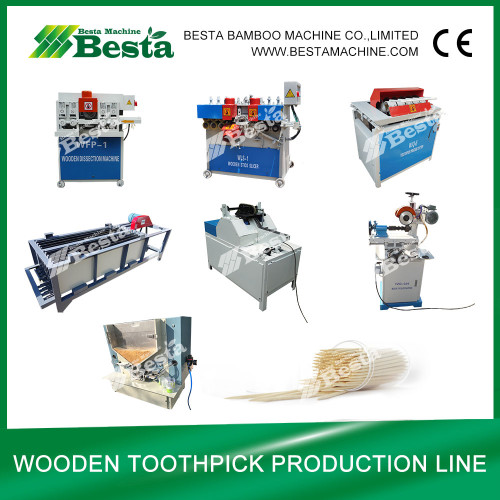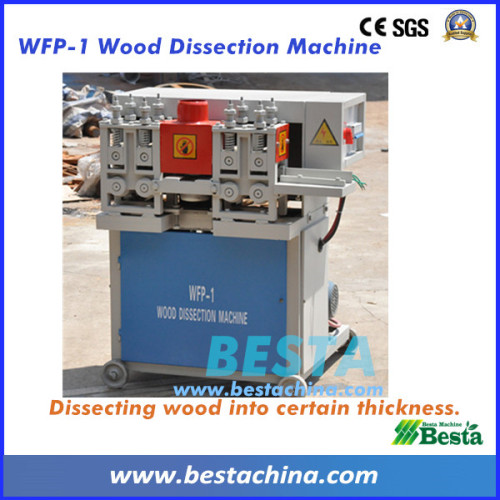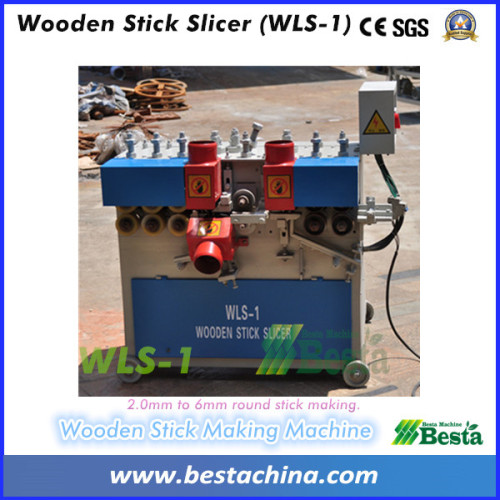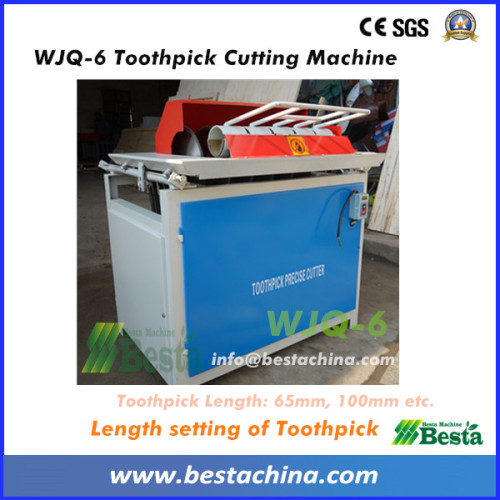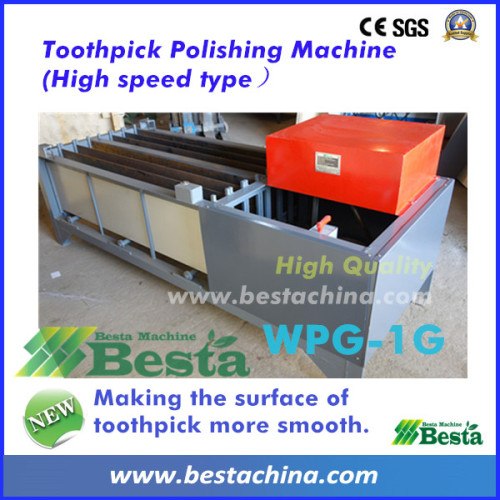 Wooden Toothpick Making Machine-Main Machine List
Description

Choosing Wooden Toothpick Making Machines,
Besta Bamboo Machine Co., Limited is your best choice.It consists of 6 machines, each machine has each function.

Wooden Toothpick Making Machine Production Line

Machine List of Wooden Toothpick Machines
1. WFP-1 Wood Dissection Machine
Function: Dissect the wood into certain thickness ex. 2.5mm

2. WLS-1 Wooden Stick Slicer (stick making machine)
Function: Making the wooden strip into 2.2mm round wooden sticks.
3. WJQ-6 Wooden Toothpick Precise Cutting Machine (length setting)
Function: Cutting the long wooden stick into 65mm length .
4. WPG-1G Wooden Toothpick Polishing Machine
Function: Polishing the surface of wooden toothpick into smooth.
5. WXJ-1S Wooden Toothpick Sharpening Machine
Function: Toothpick shape forming.
6 .Medium-type Blade Sharpening Machine
Blade grinding , machine maintaining .
7. Optional Machine:
PZJ-1 TOOTHPICK PLASTIC CONTAINER PACKING MACHINE
GD-BZ2 TOOTHPICK PACKING MACHINE
DC-6 DUST COLLECTING MACHINE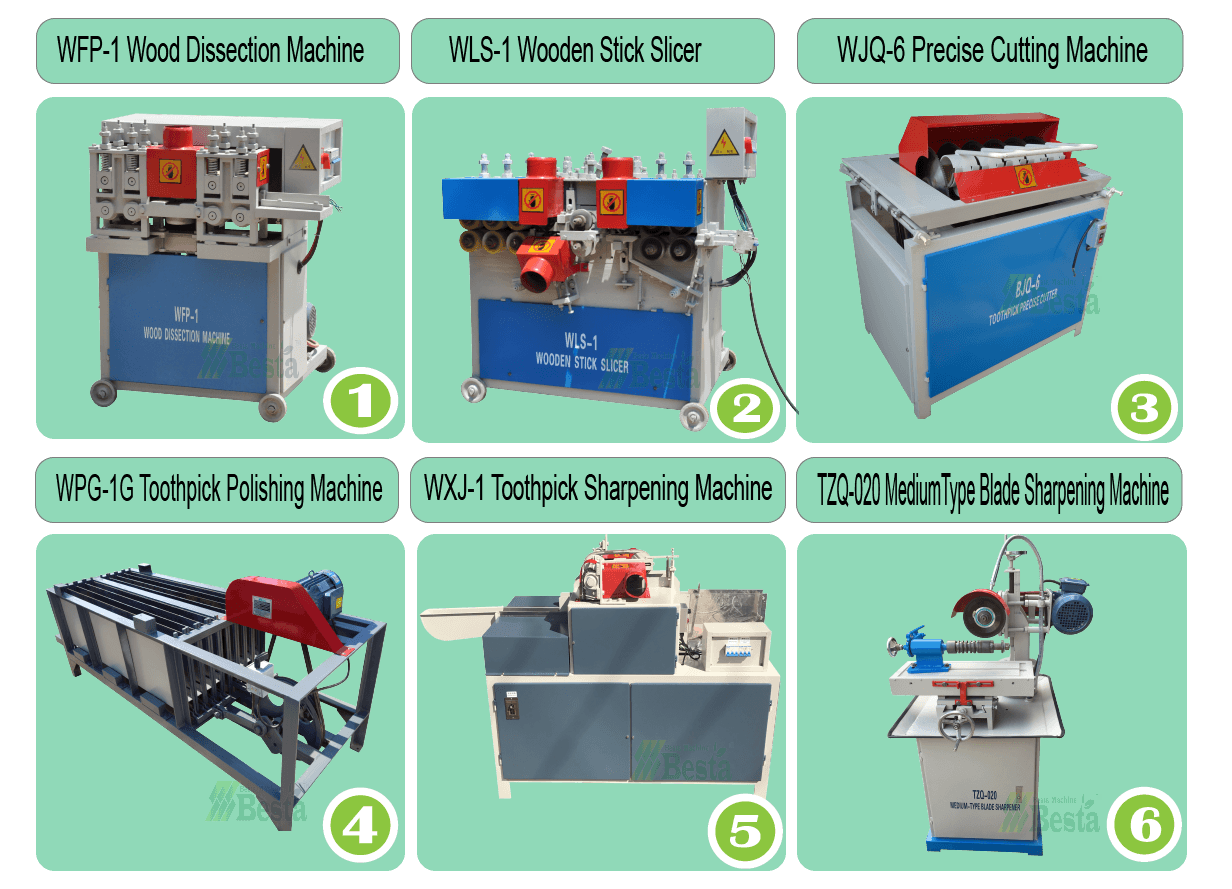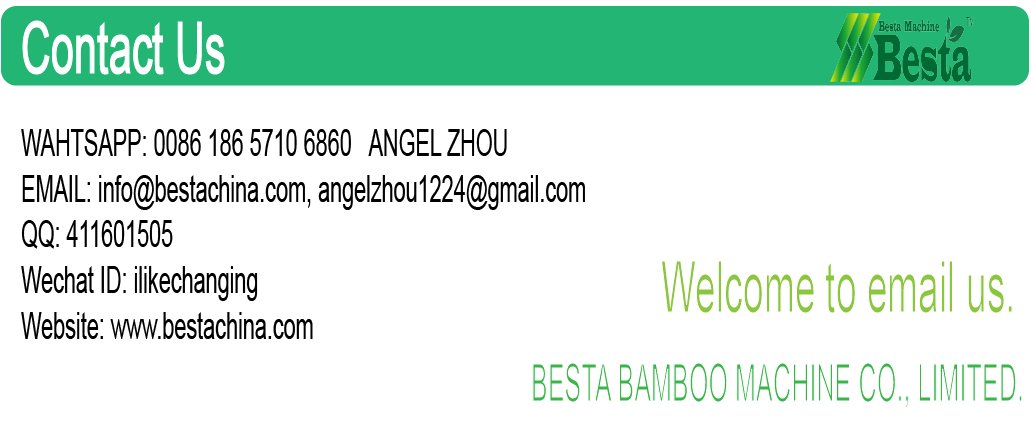 Wooden toothpick Machine List
(For each machine detailed informations, welcome to email us) Email: info@bestachina.com)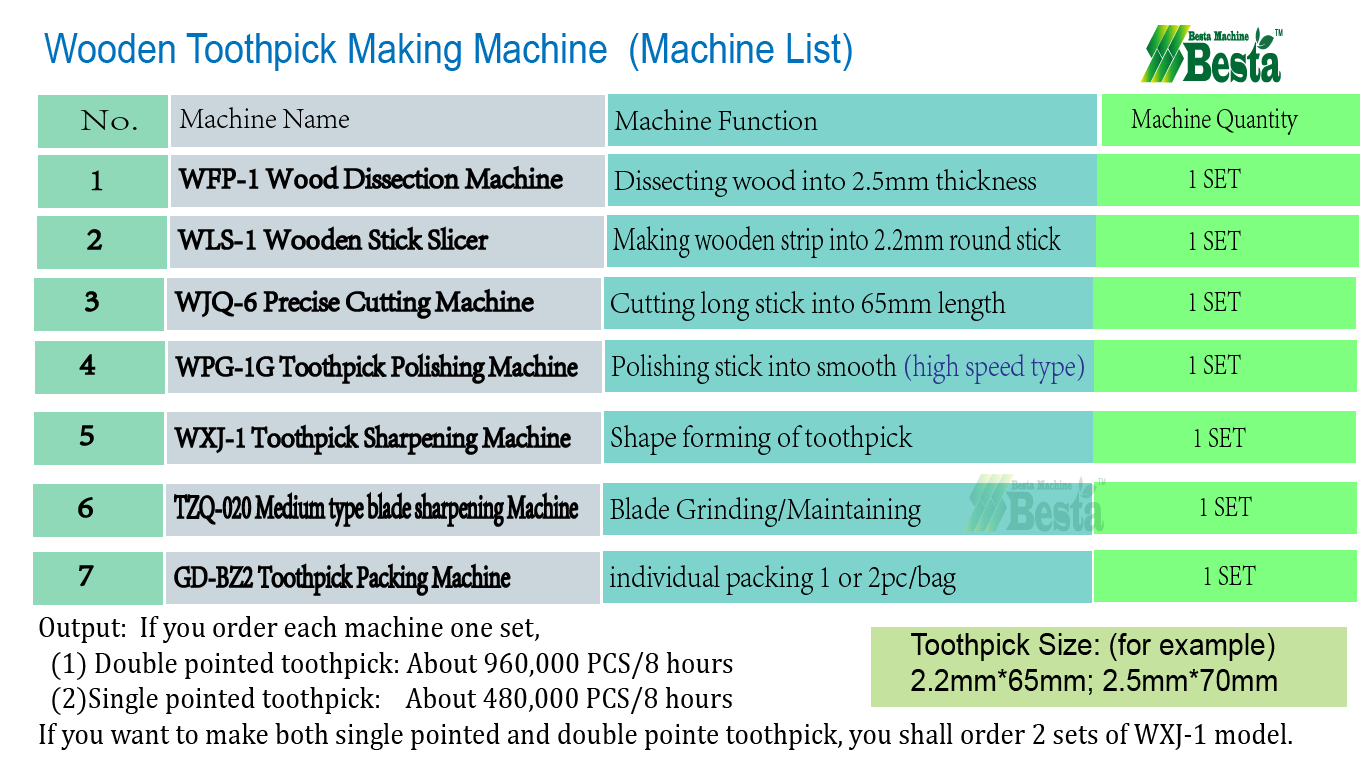 Wooden Toothpick Making Machine (Photos)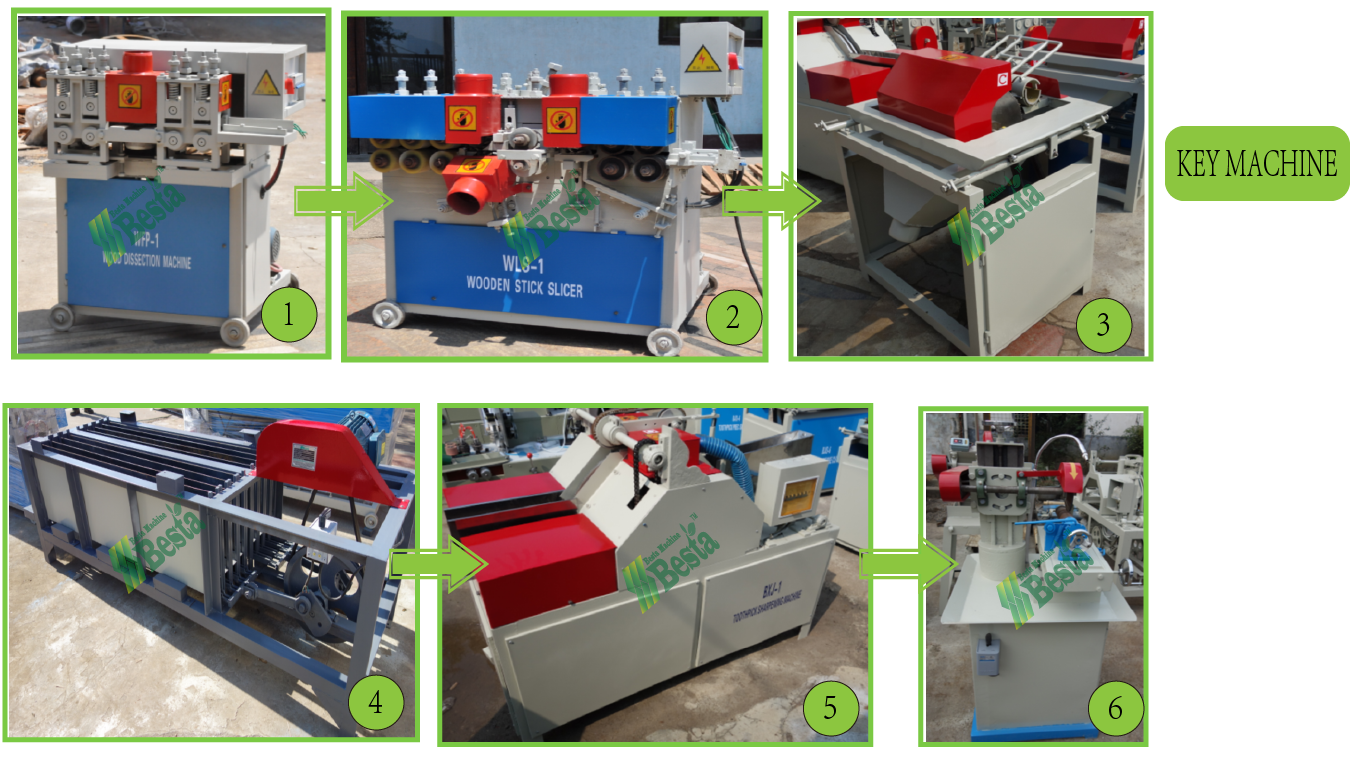 Wooden Toothpick Photos

Our Customers
We receive a great many of customers from different countries each year, notably customers from India, Indonesia, Nigeria, Tanzania, Ghana, the Philippines, Burma, Colombia, Mexico, Brazil, Iran, Uzbekistan,Egypt and other countries.We have gained a lot of trust and received many orders.
Why our customers are preferring to cooperate with BESTA?
1. High Quality Machine & Advance Technology
We can ensure the machines you buy from us , have the current advance technology.
We keep innovation of our machines all the times. After more than 15 years of machines making and marketing, we have customers in more than 30 countries. Our sales turnover is quickly increased. 80% of the abroad markets are using our BESTA MACHINE BRAND. BESTA is world famous brand in bamboo and wood working machines. It is bamboo machine expert. All of our machine motors can
be customrized made.
HIGH QUALITY--It is our promise to every customer.
2. Professional Knowledge in Our Industry.
We know our machine well and crafts of how to make the product well.
In this industry, we are the most professional company. You will get
the direct way to sucess. We will make you everything clear before buying.
We will do what we promised. It is our principle.
3. Excellent Service
Before you buying our machines, we will send you detailed catalog and pricelist.
Making you understand how to make the product very well. We will send you
all information necessary for your understanding.
After you buying our machines, when the machines are ready, we will send you
machine and packing photos, videos, shipment details and also documents which
are needed for your customs clearance. We are professional in handling exporting
of our machines.
4. The aim of helping every customer suceed in product making.
We always pay much attention to machine detail and also give you good suggestions.
5. Continous support for future running.
We are machine factory. If you need any spare parts for the machines in future, welcome to contact us. We will sell the spare parts at market rate.
If you need engineer abroad service, we can also provide. You need to
pay enigneer's visa,tickets, food, accomodation cost, and also pay engineer's
salaries. Our engineers has rich experiences in abroad installation and training
services. He has provided service in Nigeria, Ghana, Thailand, Indonesia, India,
Cameroon, Myanmar, Philippines, and other countries before.
6. Quick reply within 12 hours.
Welcome to send email to us for get detailed reply. Email : info@bestachina.com
or angelzhou1224@gmail.com
Thank you for choosing BESTA.
We appreciate your trust and thank you for your friendship.
We are good partners and friends forever.
For the video link for checking, welcome to visit
https://www.youtube.com/user/toothpickmachine/videos