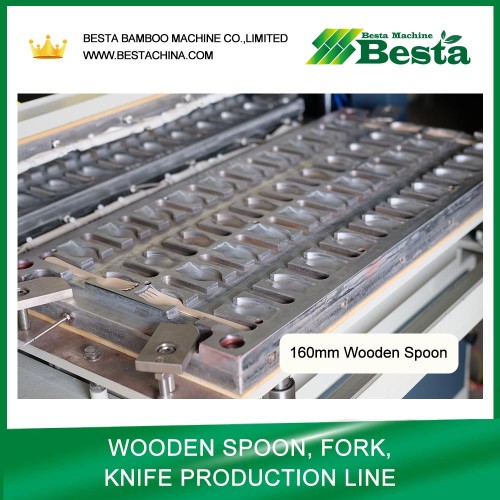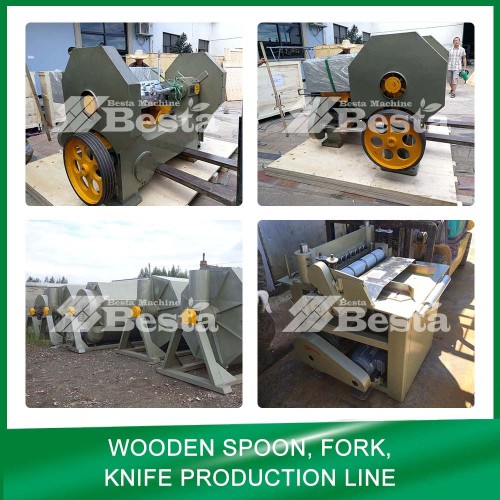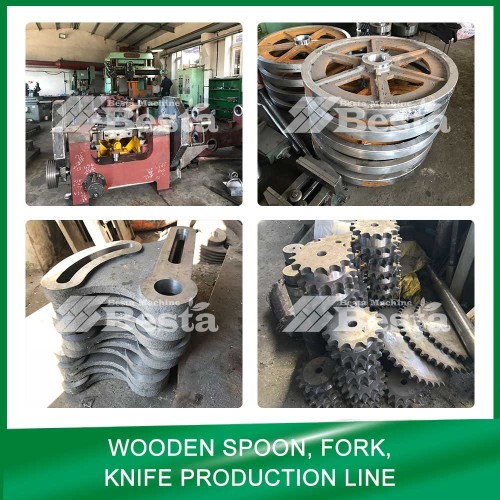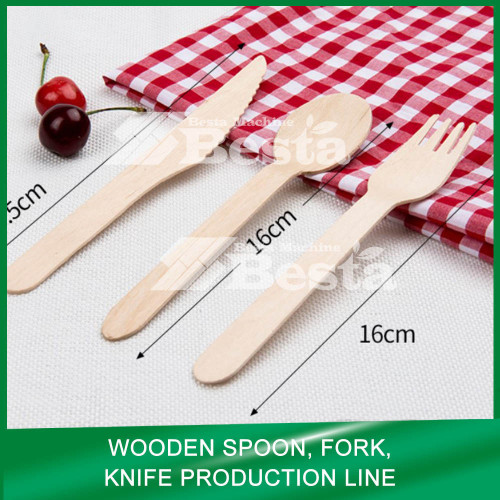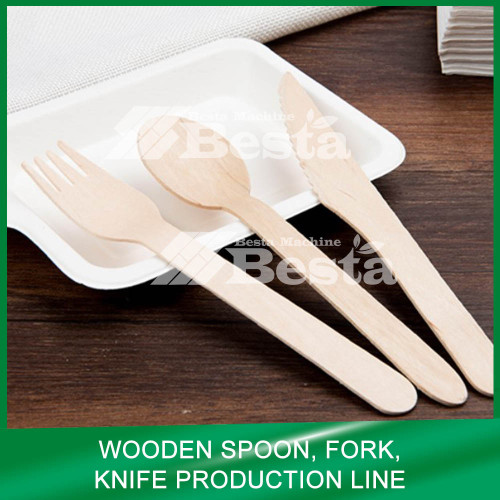 160mm Wooden Spoon Making Machine -exported to India
Item specifics
wooden spoon making machine

wooden fork making machine
Description
Video of Wooden Spoon Making Production Line, Wood Cutlery Making Machine
OUR COMPANY ADVANTAGES IN THIS PRODUCTION LINE
BESTA MACHINE HAS TWO FACTORIES. ONE IS FOR MAKING THE MACHINE AND THE OTHER IS FOR MAKING THE WOODEN ICE CREAM STICK PRODUCTS. We have been in this industry more than 18 years. We are both professional in machine making and also product making. We have mature technology for making wooden ice cream stick, wooden tongue depressor stick, wooden ice spoon and fork, knife products. The products made by our machines are widely exported to Japan, America and Canada etc.
For our machines, it is widely exported to RUSSIA, EGYPT, ALGERIA, TURKEY, INDIA, INDONESIA, VIETNAM and many other countries. We have rich experience for helping customer for setting up this projects.
We insist high quality machines and keep innovation all the times.
How to make wood into wooden spoon,fork and knife?
BESTA MACHINE aims to provide our customer high quality
wooden spoon,fork, knife making machine.
What is the process of making wood into finished product?
Step 1: Wood Cutting- Cutting the wood into certain length
Step 2: Wood Boiling
Step 3: Wood Rotary Cutting Process (Wooden veneer making)
Step 4: 160mm or 140mm wooden spoon carved cutting process
Step 5: wooden spoon drying and polishing process
Step 6: Wooden spoon hot pressing process (shape forming one end)
(Spoon & fork shape forming)
Step 7: Wooden fork teeth making machine
Step 8: Wooden Spoon and Fork Packing Process
Step 9: Carton packing
BESTA MACHINE-The most professional WOODEN SPOON MAKING machines supplier in the World.
Which Wood Can Be used in Wood Spoon Making?
Birch wood, poplar wood, pine wood etc.
BESTA MACHINE SERVICE
1. Whole Package Plan for wooden spoon making projects
2. Technology and Crafts of making wood into wooden spoon, fork, knife products
3. Abroad Installation Service
4. All the questions regarding this line will be answered by us.
5. All the operation manual, drawing, videos, crafts will be given to our customer after placing the order.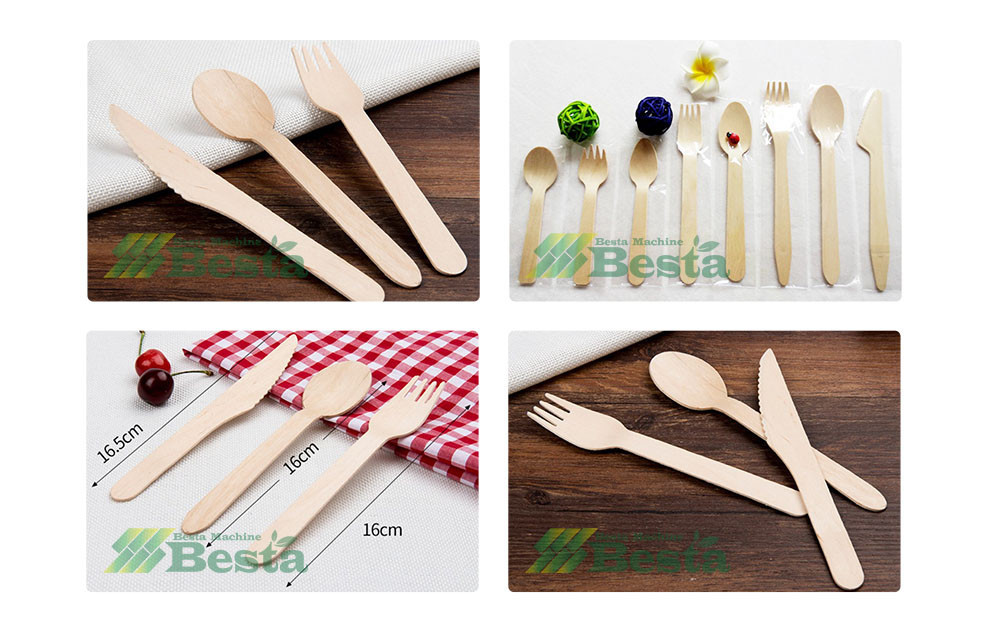 WOODEN SPOON MAKING MACHINE

WOODEN FORK MAKING MACHINE
WOODEN KNIVES MAKINGMACHINE
WOODEN PLATE MAKING MACHINE
For this line, it is consisted by the following machines,
JD-01/02 Wood Cutting Machine
(1) L520B Wood Rotary Cutting Machine
(2) CCM-003C Carved Cutting Machine
(3) PG-6-L3 Stick Polishing Machine
(4) BSM-010 Blade Grinding Machine (Magnetism type)
(5) CBJ-1 Wooden Veneer Cutting Machine
(6) KCJ-1 Wooden Fork Teeth Shape Forming Machine
(7) RYJ-1 Wooden Spoon Hot Pressing Machine
(8) RYJ-2 Wooden Plate Hot Pressing Machine
(9) LY-5 Wooden Spoon Branding Machine (Logo Printing)
BESTA BAMBOO MACHINE CO., LIMITED.
Email: info@bestachina.com
Whatsapp: 0086 186 5710 6860
МАШИНА ДЛЯ ДЕРЕВЯННОЙ ВИЛКИ
ДЕРЕВЯННЫЕ НОЖИ
МАШИНА ДЛЯ ДЕРЕВЯННОЙ ПЛИТЫ
Для этой линии она состоит из следующих машин:
JD-01/02 Дереворежущий станок
(1) L520B Резательная машина по дереву
(2) Резная машина CCM-003C
(3) PG-6-L3 Ручка для полировки
(4) Станок для заточки лезвий BSM-010 (типа магнетизма)
(5) CBJ-1 Деревянная машина для резки шпона
(6) KCJ-1 Машина для формовки деревянных зубьев
(7) Машина горячего прессования деревянной ложки RYJ-1
(8) Машина для горячего прессования деревянных пластин RYJ-2
(9) LY-5 Деревянная Ложка для Брендинга (Печать Логотипов)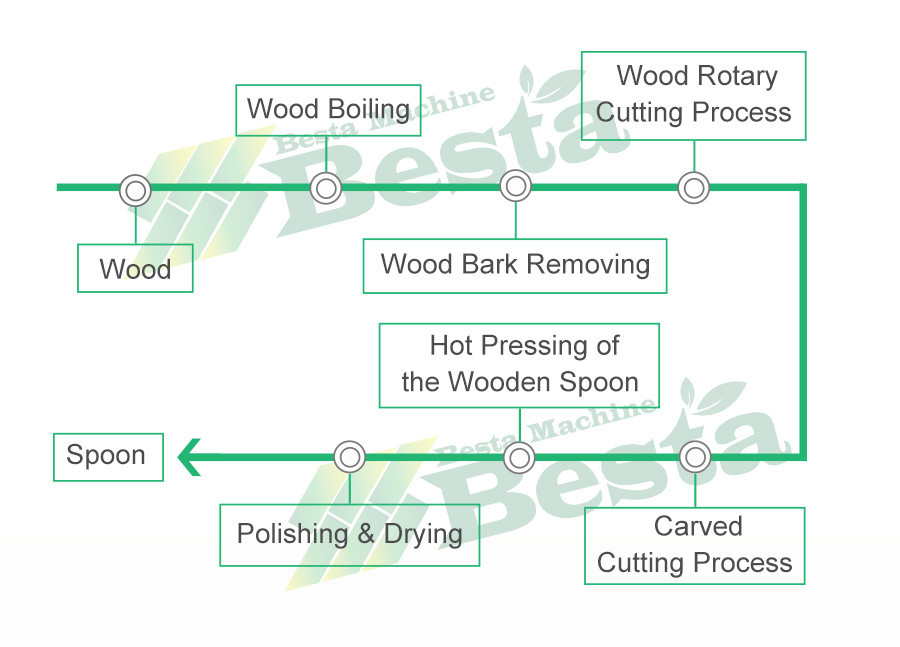 Wooden Spoon, Fork, Knife Making Machine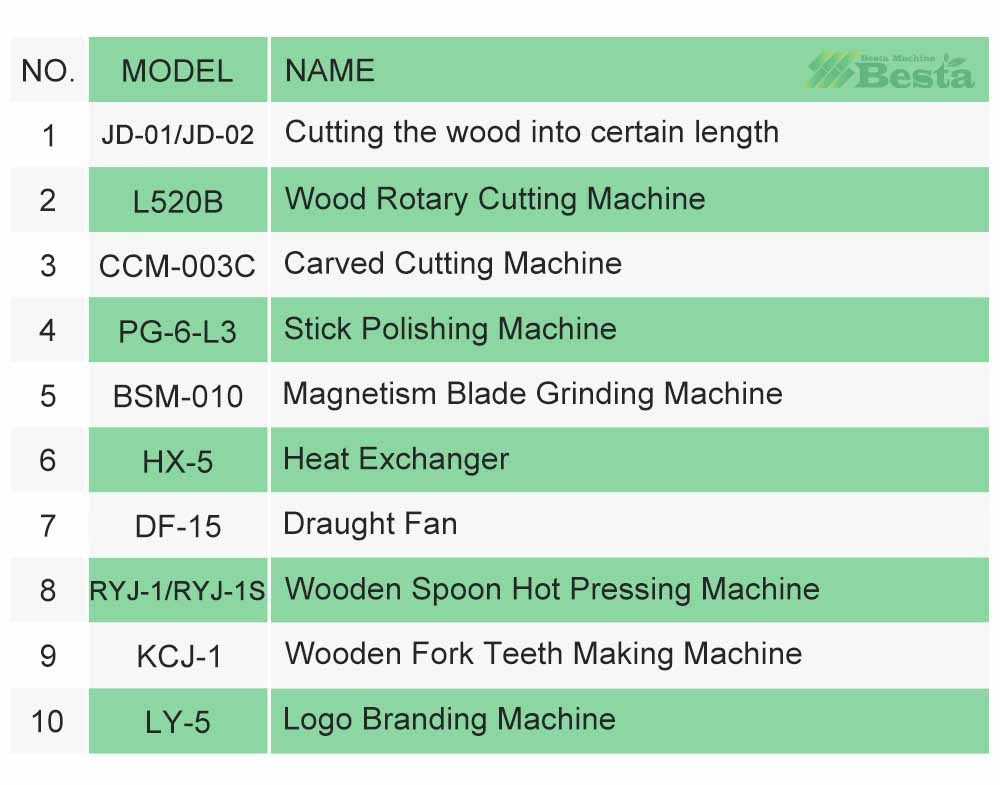 Disposable Wooden Plate Making Machine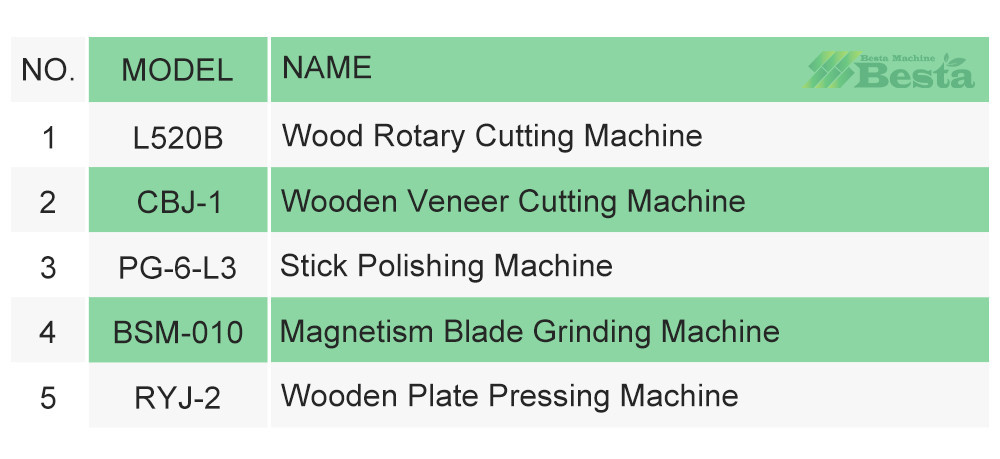 Other Machine You shall Prepare Loally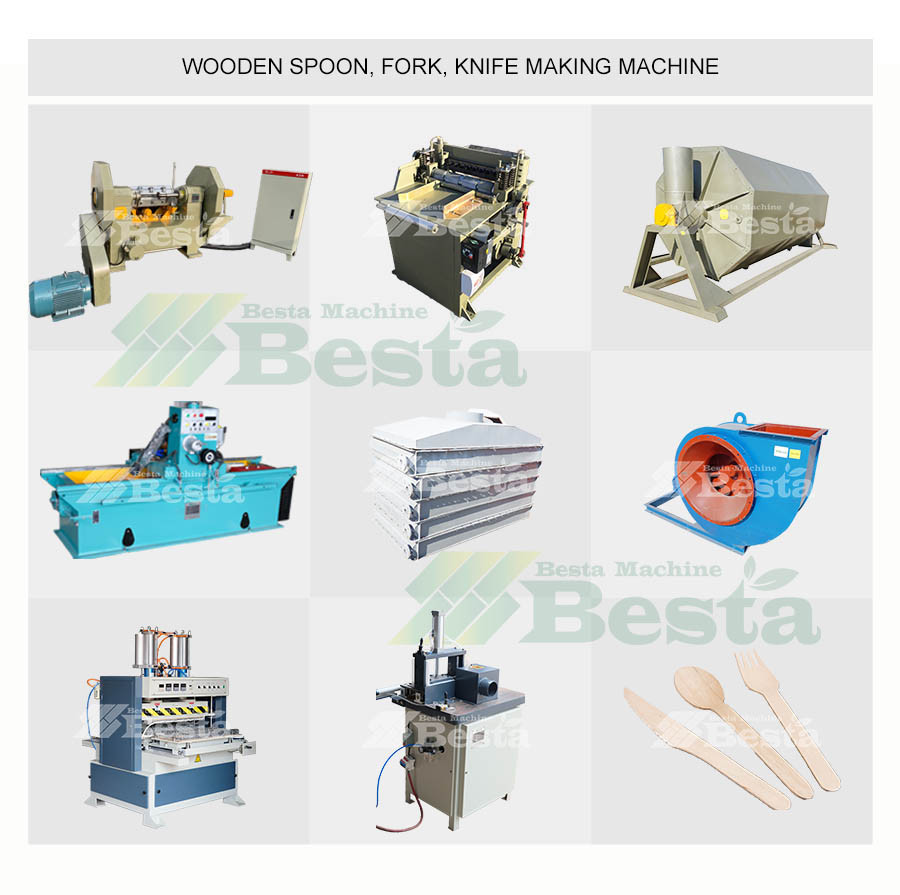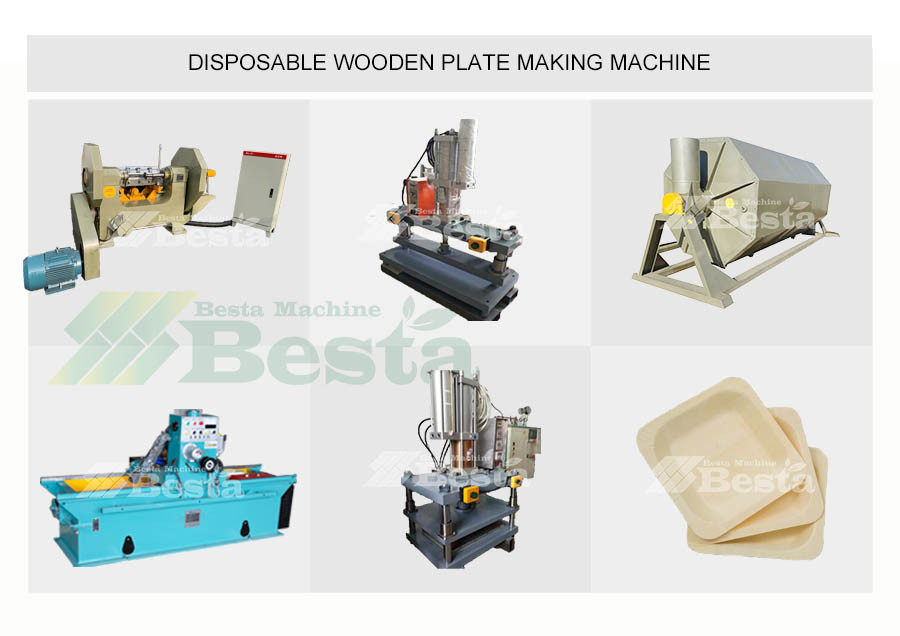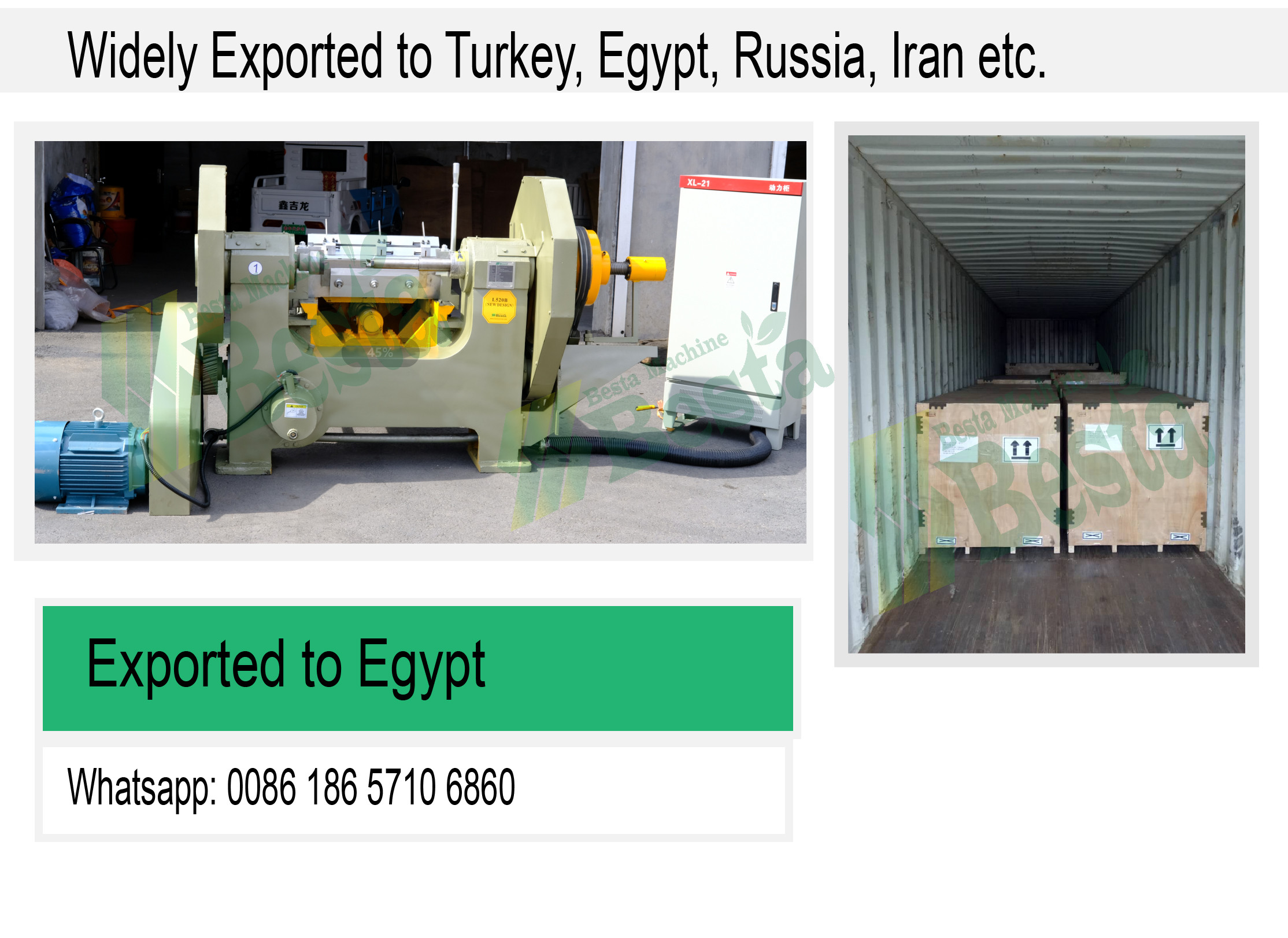 Complete Line Introduction of Wooden Spoon, fork, knife Making Machine
Wooden Spoon Hot Pressing Machine Video
L520B Wood Rotary Cutting Machine Video -WOODEN VENEER MAKING
CCM-003C CARVED CUTTING MACHINE VIDEO
PG-6-L3 HIGH QUALITY WOODEN ICE CREAM STICK POLISHING MACHINE
BSM-010 ELECTROMAGNETISM BLADE GRINDING MACHINE
Before Starting Wooden Ice Cream Stick Making Projects

We will provide the machine photos, accessories and packaging pictures for our customers, etc. to the customer beforeshipment. Our machinery (Besta machine) is mainly exported to India, Indonesia, Thailand, Myanmar, Nigeria, Tanzania, Cameroon, Brazil, Mexico and Colombia. Our company's wood machinery has always insisted on innovation and continuous research and development of new machines, as well as better performance equipment.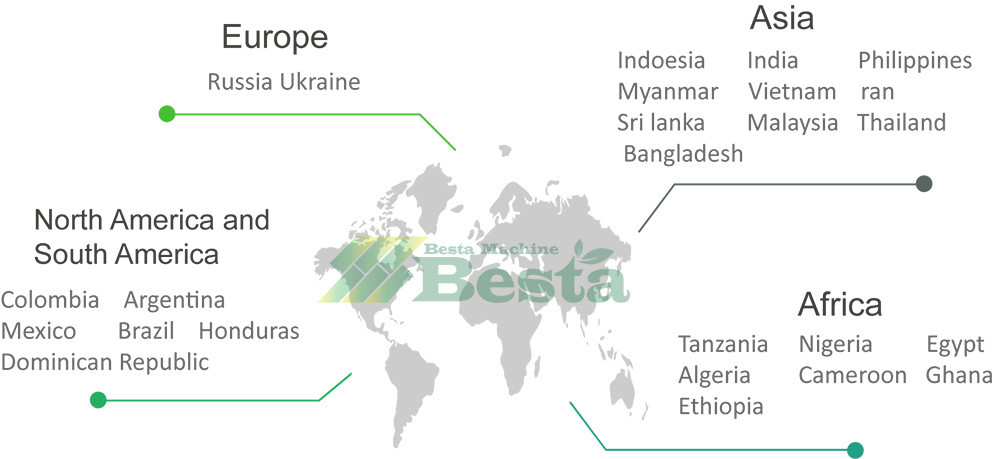 Over the past 10 years,we have received more than 200 customers to visit our factory.

Our machines are widely exported more than 30countries.Iternational Service Available.
Our services and commitment

Our after-sales service has always been in place and we are able to provide quality after-sales service.
We used to send our machine engineers to many countries ex. Nigeria, India, Indonesia, Thailand, Myanmar, Cameroon,
and many other countries in helping customers build their own factories and give them professional technical guidance,
we can consider more for you. We will continue to serve our customers by provide good technical services.
Regarding export services, we have a professional team to provide you with intimate and quality services.
We will produce according to the requirements of the customer country.
If you need high quality machines and good service, please contact us. Choose us and choose success.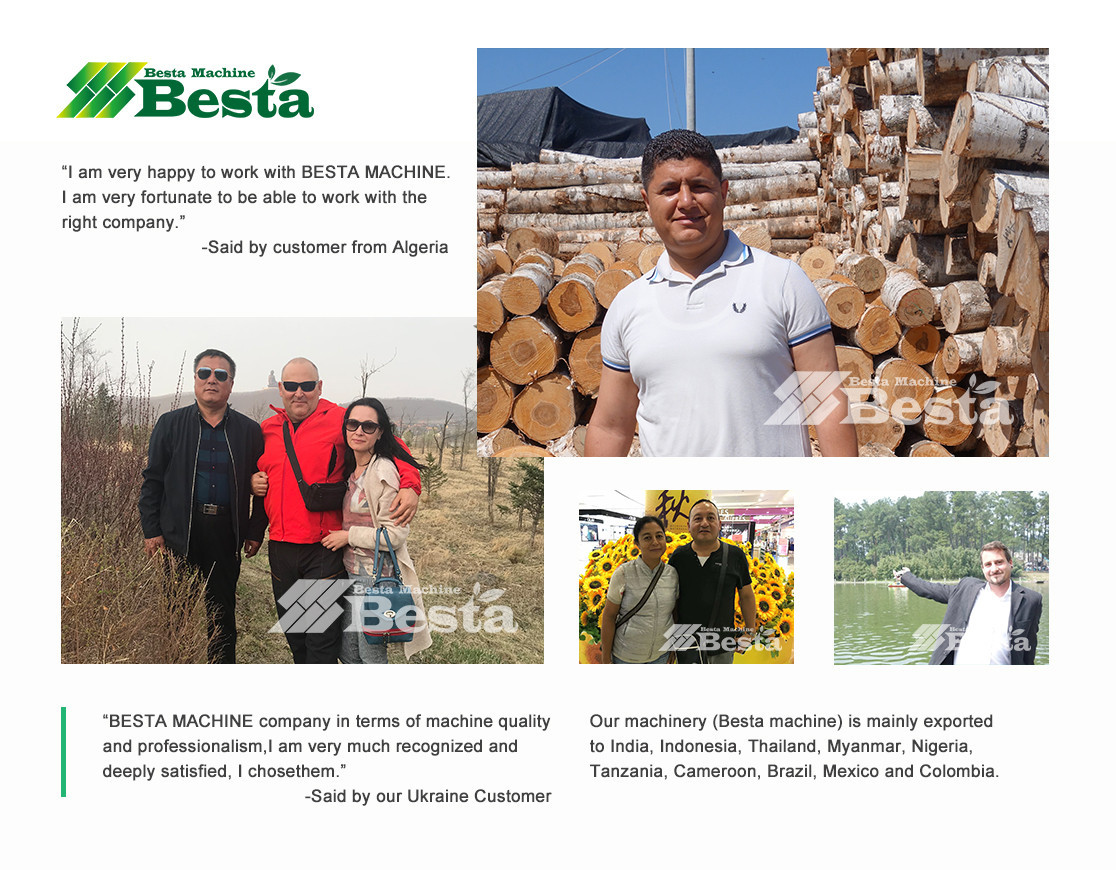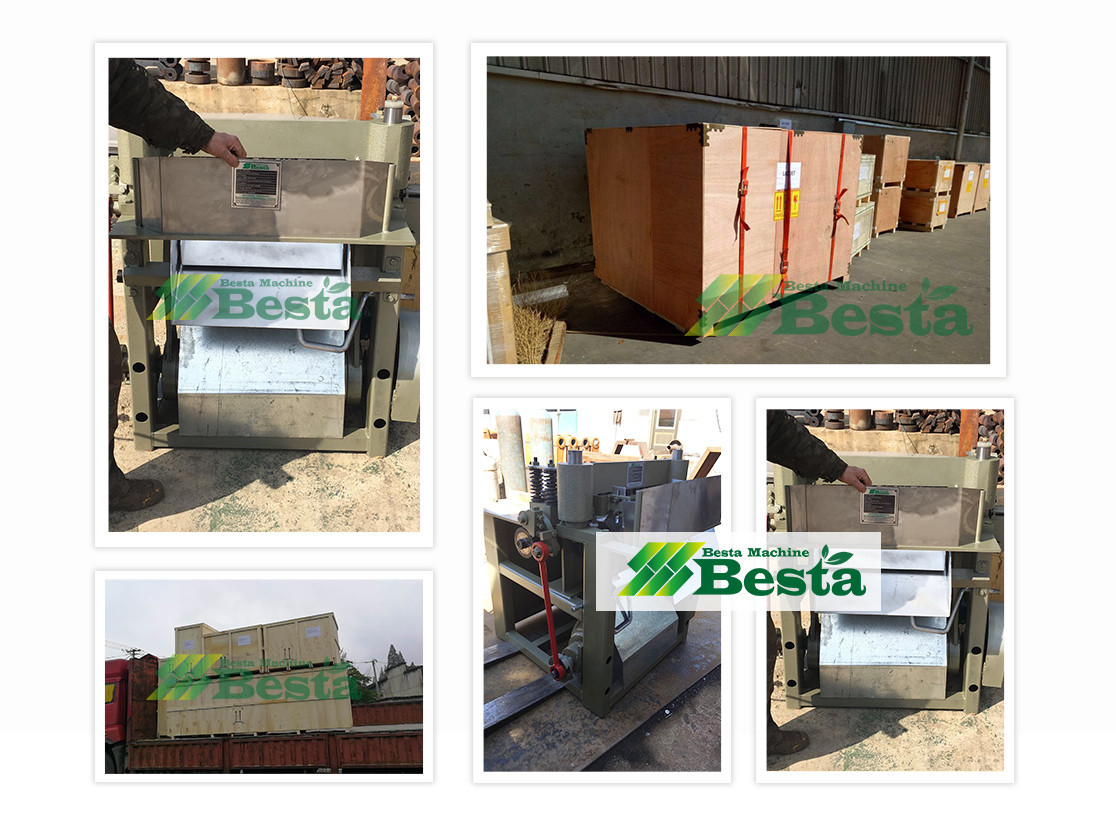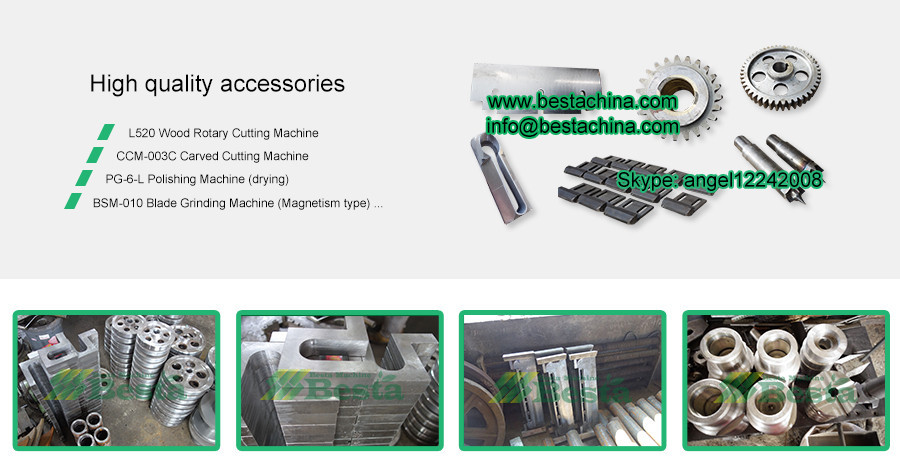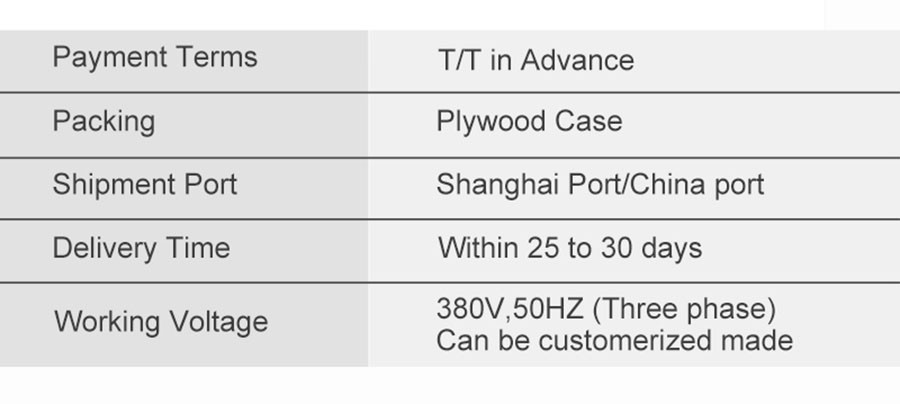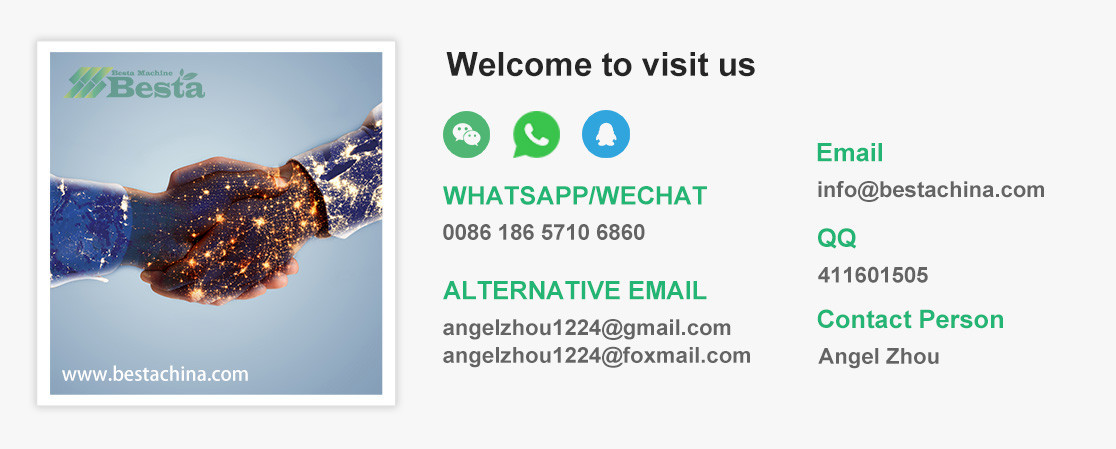 CONTACT US
Whatsapp: 0086 186 5710 6860
Contact Person: ANGEL ZHOU
Wechat ID: ilikechanging
Email: info@bestachina.com or angel@bestachina.com
Website: www.bestachina.com www.bestmachine.com
The rest of the production line:

Wooden Ice-cream Stick Making Machine
Wooden Spoon, Fork, Knife Making Machine
Wooden Tongue Depressor Stick Making Machine
Wooden Coffee Stirring Stick Production Line
Wooden Toothpick Making Machine
Wooden BBQ Stick Making Machine
Wooden Chopstick Making Machine