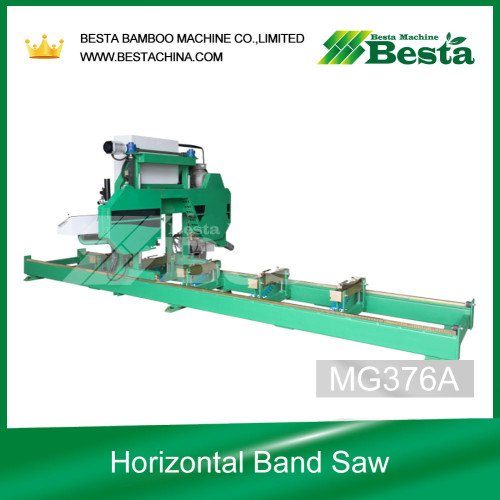 MG376A Horizontal Band Saw
Description
Product Features:
1.PLC programming, inverter control, digital display control interface.
2.Running with chain and ball screw, stable operation and high machining accuracy.
3.Hydraulic tensioning system ensures that the saw blade is in optimal tension and extends the life of the saw blade.
4.Achieve automatic cooling, lubrication, dust removal system, one step in place, safe and environmentally friendly.
5.Fast sawing speed, automatic, safe and reliable sawing process, high safety performance.
6.Reasonable structure, small footprint, easy installation, commissioning and movement.
7.Use MF115 type sawing machine to realize automatic sawing and sawing.
8.The common saw blade can be used with the gear shaping machine to realize the left and right teeth of different sawing roads.
9.Type A is variable frequency control; AS type is servo control.
Technical Parameters:
Name

MG376A(AS)-600

MG376A(AS)-900

MG376/S-900

Maximum log diameter

600 MM

900 MM

900 MM

Maximum sawing length

4400 MM

4400 MM

4400 MM

Maximum sawing height

580 MM

880 MM

880 MM

Saw wheel diameter

654 MM

654 MM

720 MM

Saw wheel width

45 MM or 90 MM

95 MM

95 MM

Saw blade speed:

Ordinary wood standard speed

750 R/MIN

850 R/MIN

850 R/MIN

Motor output total power

17.2 KW or 21 KW

24.2 KW

21.05 KW

Sawing the main motor power

15 KW or 18.5 KW

22 KW

18.5 KW

Lift motor power

1.1 KW

1.1 KW

1.05 KW

Advance and retract motor power

1.1 KW

1.1 KW

0.75 KW