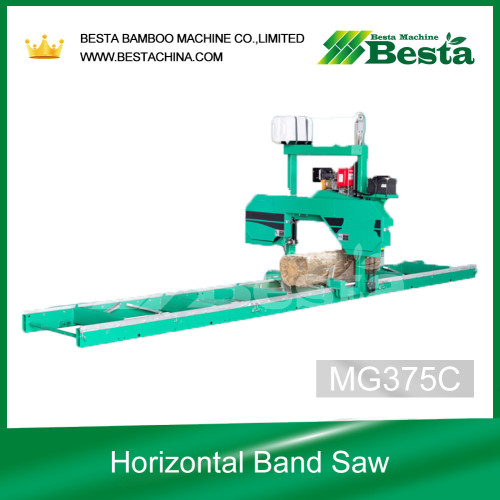 MG375C(CD) Horizontal Band Saw
Description
Product performance characteristics:
1.Easy to operate, simple, accurate, and safe; easy to maintain and move.
2.High power and low fuel consumption.
3.The sawing efficiency is high and stable; the sawing plate has a high flatness.
4.The saw blade has a long service life, and the saw blade is automatic and simple.
5.No need for sawing masters, ordinary workers can be skilled.
6.No need for sawing masters, ordinary workers can be skilled
*C type is diesel engine type, CD type is diesel type
Technical Parameters:
Name

MG375/C

MG375/CD

Maximum log diameter

600 MM

600 MM

Maximum sawing width

600 MM

600 MM

Maximum sawing height

600 MM

600 MM

Maximum sawing length

5000 MM

5000 MM

Saw wheel diameter

473 MM

473 MM

Saw blade speed:

Ordinary wood standard speed

800-1000 R/MIN

800 R/MIN

Diesel horsepower YM186FA

16 P

16 P

Motor output total power

/

9 KW

Sawing the main motor power

/

9 KW

(380V,50Hz,3phase)

Saw blade size

4005×34×1.05 MM

4005×34×1.05 MM

Track length (standard type)

6000 MM

6000 MM

Machine tool size

6600×2000×2000 MM

6000×2000×2000 MM

Package size (length × width × height)

2000×950×2300 MM

2000×850×2150 MM

weight

700 KGS

680 KGS