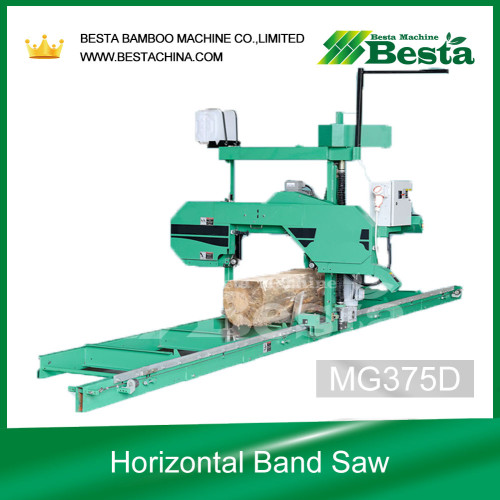 MG375/D Horizontal Band Saw
Description
Product performance characteristics:
1.Automatic, convenient, simple, accurate and safe operation.
2.Sawmill process, electric speed control, electric lift.
3.Sawn timber thickness is automatically controlled with high precision.
4.The sawing efficiency is high and stable; the sawing plate has a high flatness.
5.Suitable for scale production of sawn timber plants or production in forest areas.
6.No need for sawing masters, ordinary workers can be skilled
Technical Parameters:
Name

MG375/D

Maximum log diameter

600 MM

Maximum sawing width

600 MM

Maximum sawing height

600 MM

Maximum sawing length

5200 MM

Saw wheel diameter

473 MM

Saw blade speed:

Ordinary wood standard speed

780 R/MIN

Motor output total power (380V, 50Hz, 3phase)

10.1 KW

Sawing the main motor power

9 KW(380V,50Hz,3phase)

Lift motor power

0.55 KW

Advance and retract motor power

0.55 KW

Maximum sawing speed

0-15 M/MIN

Maximum sawing back speed

17 M/MIN

Saw blade size

4005×34×1.05 MM

Track length (standard type)

6000 MM

Machine tool dimensions (length × width × height)

7200×2000×2000 MM

Package size (length × width × height)

2200×950×2100 MM

weight

800 KGS