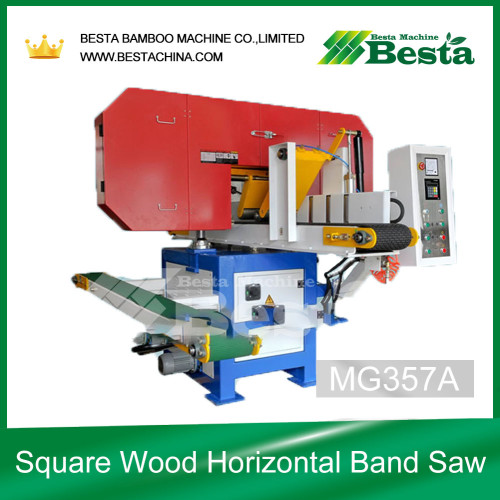 MG357A Square Wood Horizontal Band Saw
Description
It has the following characteristics:
1.User-friendly microcomputer operation interface, easy to operate and convenient.
2.High-precision rotary encoder with precision ball screw for controlled sawing thickness for greater precision.
3.Auxiliary returning system, safe and reliable, saving people, labor saving and saving time.
4.PLC integrated control system, safe and reliable.
5.Hydraulic saw blade tensioning automatic compensation system ensures that the saw blade is in optimal tension at all times and extends the life of the saw blade.
6.The conveyor belt is driven by hydraulic motor, which runs smoothly and constantly, and has strong transmission force to ensure smooth and smooth work.
7.Specially designed multiple sets of pressing devices ensure reliable material compression during sawing for safe operation.
8.Equipped with saw blade cooling, lubrication, dust removal system, cooling, lubrication, dust removal in one step, safe and environmentally friendly.
Technical Parameters:
Product model

MG357A×250

MG357A×400

MG357A×500

Maximum processing size

(saw blade rises to 60mm)

250×200 MM

400×200 MM

500×200 MM

Distance from the saw blade to the workbench

3-80 MM

3-80 MM

4-80 MM

Conveyor belt width

235 MM

385 MM

485 MM

Saw wheel diameter

711 MM

711 MM

711 MM

Feed rate

0-18 M/MIN

0-18 M/MIN

0-14 M/MIN

Saw wheel lifting motor

0.18 KW

0.18 KW

0.18 KW

Saw wheel motor

15 KW

18.5 KW

22 KW

Hydraulic pressure

55 KG/CM²

55 KG/CM²

55 KG/CM²

Dust suction pipe diameter

102 MM²

102 MM²

102 MM²

Advance and retract motor power

1.1 KW

1.1 KW

0.75 KW

Saw blade size

(length × width × thickness)

4572×27×0.9mm (1" saw wheel)

4572×41×1.27mm (1.5" saw wheel)

4572×27×0.9mm (1" saw wheel)

4572×41×1.27mm (1.5" saw wheel)

4920×27×0.9mm (1" saw wheel)

4920×41×1.27mm (1.5" saw wheel)

Saw road

1.2-2.2 MM

1.2-2.2 MM

1.2-2.2 MM

Saw blade size

5080×50×1.05 MM

5830×80×1.05 MM

6144×50×0.9 MM

Track length (standard type)

5800 MM

5800 MM

5800 MM

Machine tool size (length × width × thickness)

3000×2230×2050 MM

3000×2230×2050 MM

3000×2230×2050 MM

Weight

1700 KGS

1900 KGS

2000 KGS