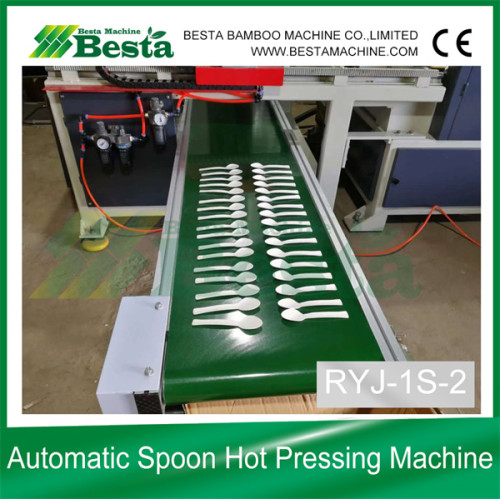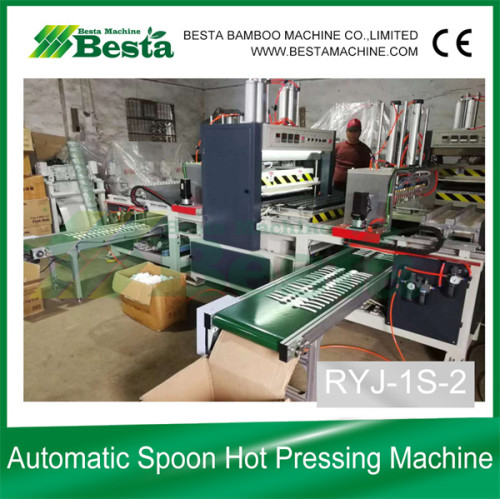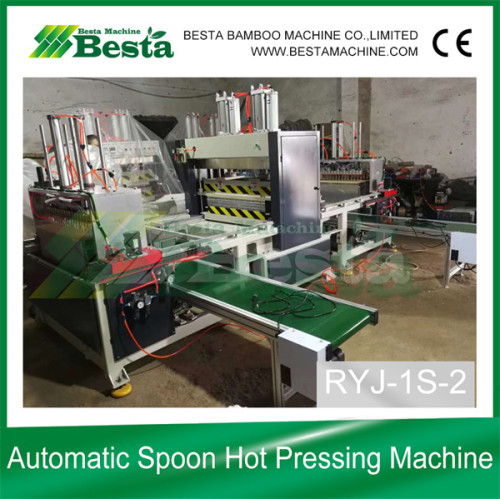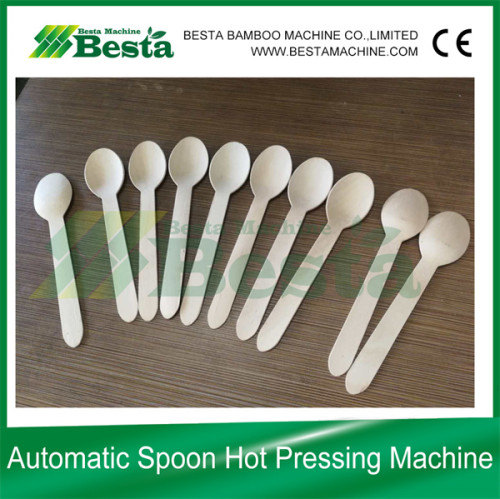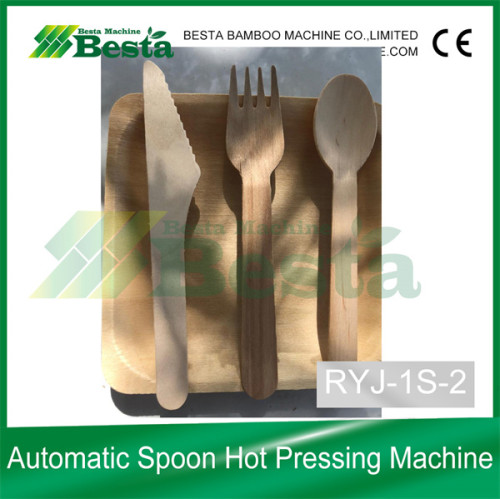 Fully Automatic Wooden Spoon Fork Hot Pressing Machine NEW TECHNOLOGY
Description
FULLY AUTOMATIC WODOEN SPOON HOT PRESSING MACHINE VIDEO.
RYJ-1S-2
VIDEO LINK :
https://youtu.be/z40sX7a9qho

Fully Automatic Wooden Spoon Fork Hot Pressing Machine
It is consisted by three parts , Materials Loading Area (2 SETS),
Main Wooden Spoon Hot Pressing Machine ( 1 set) and Conveying Parts.
I
n the past, it needs the worker to put the materials in the
hot pressing mould area. It will spend a lot of time and also need time to take it out.
This machine is made from high quality parts and advance technology. It will largely save the labor's
work and cost. The ouptut for this machine can reach 12,000 to 13,000 PCS per hour.
It just need the worker to put the materials in the materials holding area and the machine
itself can lifting the materials to the hot pressing area and then automatic pressing and then
unloading and conveying to the selection area.
For everyday , 10 hours, can max. produce 120,000 PCS.
Machine Technical Data
Main Hot Pressing Machine Power: 10.8 KW (380V, 50HZ)
Mechanical ARMS and lifting device: 2.2 KW (in total)
Working Temperature: 110 to 120 degree centigrade.
Air Pressure: 0.6 to 0.8 Mpa
Max. Working Pressure: 20 TONS
Mechanical size 4100*2650 (manipulator 1650 + conveyor belt protruding 1000) * 1990MM
Machine net weight 2500KGS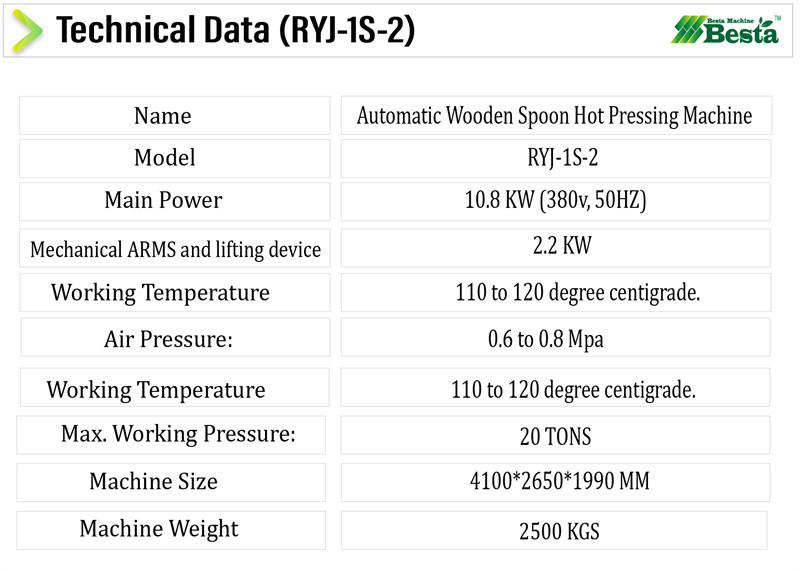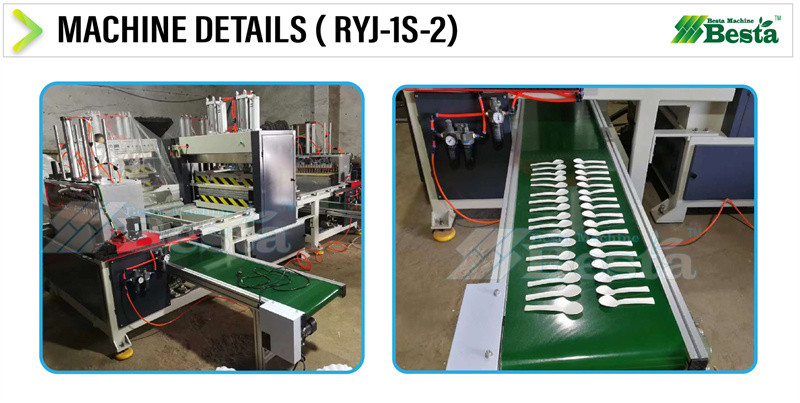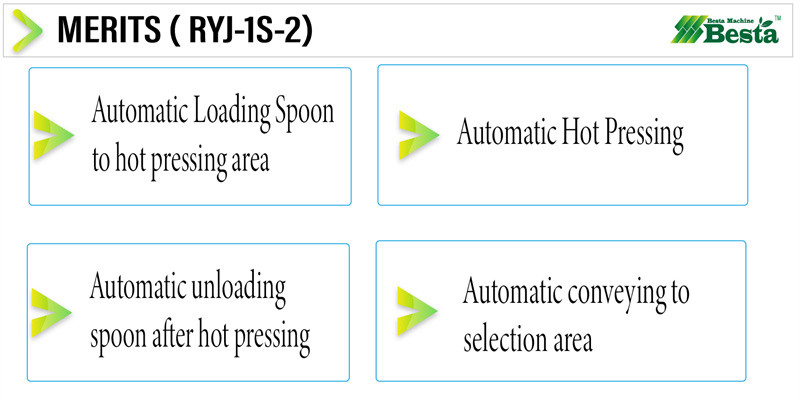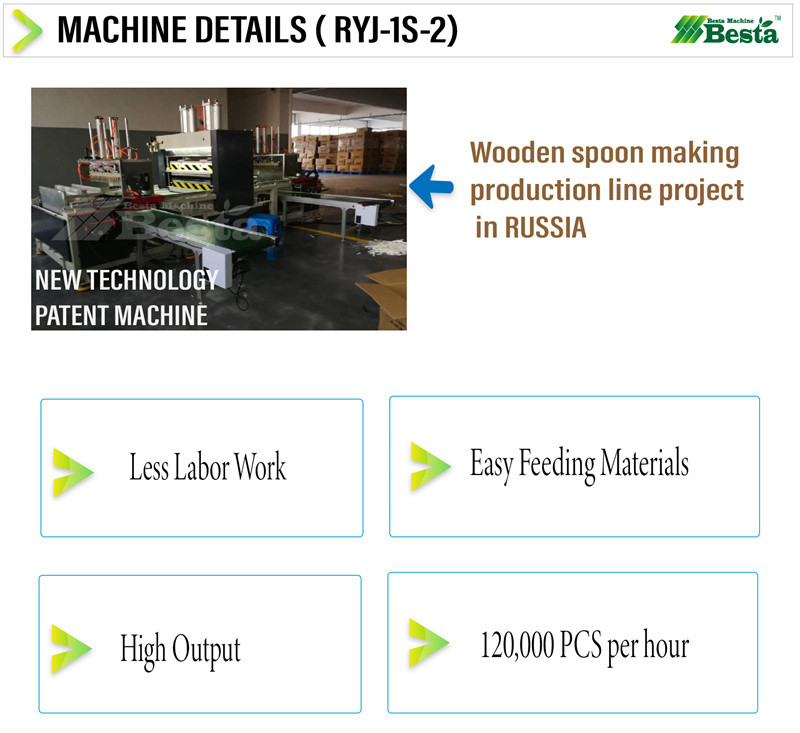 Question (1)
We wish to have less labor working in the wooden spoon, fork hot pressing.
Can this model RYJ-1S-2 meet our needs ?
Reply (1)
Yes. Our machine is specially designed for automatic loading materials to the hot pressing
area, automatic hot pressing and then after hot pressing ,the robotic arm will life "ready pressed"
product to the conveying area. What you need to do is put semi product (flat shape product, with moisture balanced) to the Materials Loading Area at two sides.
Question (2)
What is the machine cost ?
Reply (2)
For detailed machine quotation, please send email to us. Our email address is
info@bestachina.com, angel@bestachina.com
Question (3)
How long will it take to make this machine and shipment ?
Reply (3)
The manufacturing schedule is as follows
a) Machine Production : 35 days since contract is signed and advance payment is received.
b) Testing & Inspection: 1 to 2 days
c) Machine Packing: 1 day
d) Delivery to shipment port: Plan 2 to 3 days
Question(4)
If I wish to do hot pressing of two products, for example, 160mm wooden spoon,
160mm wooden fork by this automatic hot pressing machine. How many sets of
machine do we need ?
Reply (4)
If you wish to do the hot pressing of 2 different shapes of products,
you need to buy 2 sets of RYJ-1S-2 MODEL.
If you have other question of this machine, do not hesitate to email us.