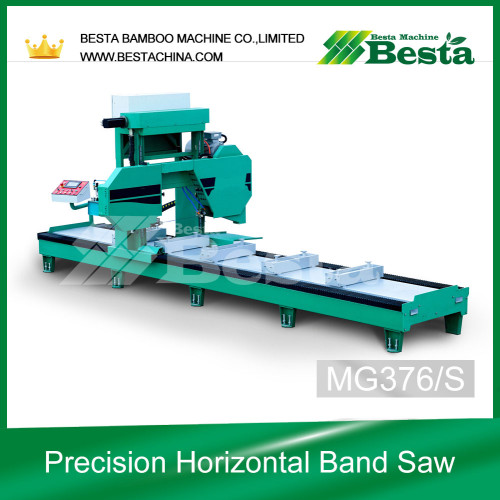 MG376/S CNC Precision Horizontal Band Saw
Description
Product advantages:
1. High precision
The sawing processing precision is high, the operation is smooth and smooth, and the thickness error of the sawing is less than 0.2mm.
2. High surface finish
Smooth and smooth operation, high flatness, combined with high-quality tungsten steel saw blade, direct sanding with sawing.
3. High yield
The processing precision is high, the sawing path is small, the surface finish is high, and the sawing is used to plan the planing, so that the reserved size of the plate thickness during the sawing process is greatly reduced, and basically one plate can be added for each sawing 10 plates.
4. Automatic and simple operation, saving a lot of labor
The computer operation interface is simple to operate. No special sawing, grinding saws, and sawing masters; ordinary workers can quickly and proficiently operate; the entire sawing process is completed automatically and continuously, each machine requires only one worker to operate, saving a lot of labor
Product Features:
1.PLC programming, inverter control, digital display control interface.
2.It adopts imported linear linear guide and ball screw for high precision machining.
Adopt imported servo motor drive, programming control, stable and smooth operation.
3.Achieve automatic cooling, lubrication, dust removal system, one step in place, safe and environmentally friendly.
4.The sawing process is automatic, safe, reliable and has high safety performance.
5.Reasonable structure, small footprint, easy installation, commissioning and movement.
6.Use MF115 type sawing machine to realize automatic sawing and sawing.
Technical Parameters:
​Name

MG376/S-600

MG376/S-900

Maximum log diameter

600 MM

900 MM

Maximum sawing width

600 MM

900 MM

Maximum sawing height

550 MM

900 MM

Maximum sawing length

4000 MM

4000 MM

Saw wheel diameter

654 MM

720 MM

Saw blade speed:

Ordinary wood standard speed

850 R/MIN

850 R/MIN

Motor output total power (380V, 50Hz, 3phase)

15 KW

18.5 KW

Lift motor power

1.05 KW

1.05 KW

Advance and retract motor power

0.75 KW*2

1.1 KW*2

Saw blade size

5080×34×1.05 MM

6144×50×1.05 MM

Track length (standard type)

6000 MM

6000 MM

Machine tool size

6000×2300×2300 MM

6000×2735×2700 MM

Weight

2300 KGS

3500 KGS