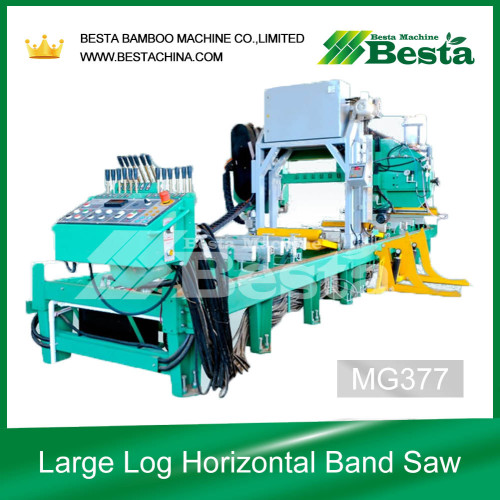 MG377 Large Log Horizontal Band Saw
Description
This machine is suitable for the cutting of all kinds of logs and large square wood. It has the following characteristics:
1. Full computer operation interface, easy to operate and convenient.
2. High-precision automatic digital display thickness setting and control system.
3. Hydraulic saw blade tensioning, automatic compensation system, ensuring that the saw blade is in optimal tension at all times, extending the service life of the saw blade.
4. Full hydraulic wood operating system: hydraulic loading, hydraulic tumbling, hydraulic adjustment, hydraulic clamping (multiple clamping methods), hydraulic automatic unloading of plates, infrared prediction.
5. The thickness of the sawing plate is uniform, the flatness is high, and the thickness error is small.
6. Bark pre-cutting system that removes stone and wire-light hard objects on the bark to maximize the protection of the saw blade.
7. Multiple automatic power-on protection system, safe and reliable operation process.
8. Achieve automatic cooling, lubrication, dust removal system; cooling, lubrication, dust removal in one step, safe and environmentally friendly.
Technical Parameters:
Product model

1000H

650H

Maximum sawing range

Log

Φ950 MM

Φ600 MM

Square wood

850 MM

500 MM

Maximum sawing height

875 MM

575 MM

Minimum sawing height

25 MM

25 MM

Maximum sawing thickness

450 MM

350 MM

Standard sawing length

7000 MM

7000 MM

Extended sawing length

3000 MM

3000 MM

Minimum sawing length

1200 MM

1200 MM

Main motor power

22 KW

18.5 KW

Vertically moving motor power

1.1 KW

1.1 KW

Moving motor power horizontally

1.1 KW

1.1 KW

Saw arm moving speed

25 M/MIN

35 M/MIN

Saw pulley diameter

720 MM

720 MM

Saw blade size

5970×50~60×0.9~1.1 MM

5470×50~60×0.9~1.1 MM

Saw road loss thickness

1.5~2.3 MM

1.5~2.3 MM

Saw belt speed

32 M/S

32 M/S

Standard form factor

8.7 M×2.5~2.9 M×2.5 M

8.8 M×2.2~2.6 M×2.3 M

weight

2800 KGS

2300 KGS